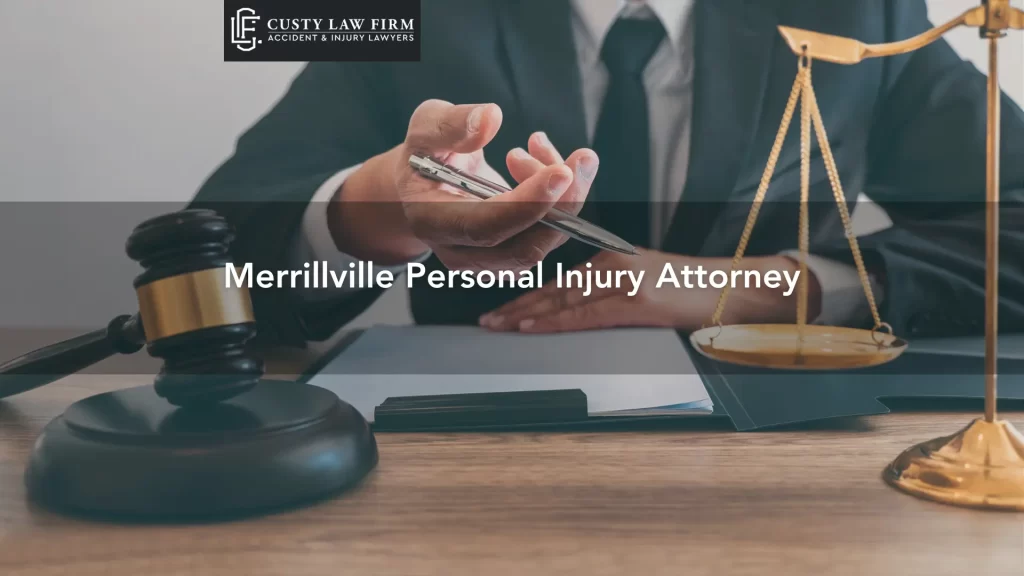 Were you hurt in an accident in Merrillville? Are you struggling with medical bills, lost wages, repairs or replacement of your vehicle, or other expenses you never anticipated or planned for? If so, know that you're not alone, and the financial burden does not have to fall on your shoulders. The at-fault party should pay, and an experienced personal injury attorney could help you get the justice and fair compensation you're owed through a personal injury claim.
The Merrillville personal injury lawyers from Custy Law Firm | Accident & Injury Lawyers have the skills and experience you'll want on your side if you've been hurt due to someone else's recklessness, carelessness, or an intentional act. We will show you why our firm is trusted by so many in our community and throughout Indiana. Call us today at (219) 286-7361 for a free consultation to discuss your case with a knowledgeable team member today.
Why Custy Law Firm | Accident & Injury Lawyers Is Your Best Option
Our client testimonials show how dedicated we are to ensuring our clients receive the maximum compensation. Our attorneys speak with the clients one-on-one and never pass off cases to a paralegal. We believe in the importance of listening to and working on fulfilling our clients' needs. We don't pressure or intimidate you into making any decisions. This is your case, and we want what you want.
Our firm's Merrillville personal injury attorneys are committed to seeking justice and holding others responsible for their actions. When you hire us, we will ensure you receive fair treatment from all parties involved. It's not our goal to close out each claim to benefit our finances. We will keep fighting until we reach an acceptable settlement or verdict in your case. We care about our clients and always treat them with respect and compassion.
Important Steps to Take After an Injury
Getting injured interferes with your daily life and prevents you from enjoying the activities you once enjoyed. You could face thousands of dollars in medical bills and be unable to return to work for a long time. The stress that arises after any injury-causing incident is overwhelming.
There are crucial pieces of evidence and information that could help you if you decide to pursue a personal injury claim. The steps you should take after any accident are as follows:
Obtain the at-fault individual's insurance policy. Suppose it's auto insurance information after a car wreck or a company's liability policy after a slip and fall. In that case, finding out who to file your claim with to receive compensation is necessary.
Call the police or notify management. If you're in an auto accident, it's a good idea to call the police to the scene so they can investigate and determine who was at fault. In other situations, like a slip and fall, notify the business owner and fill out an incident report.
Take photos. It's always a good idea to take pictures of the scene where your injury occurred. Providing evidence of that is helpful if you fell on a sidewalk because of a crack.
Find witnesses. If anyone saw what happened, get their names and phone numbers. They could provide written statements or testify to the negligence that caused your injury if your case goes to trial.
Write down detailed information. You should recall everything about the accident. Take note of the date and time it occurred, where it happened, what injuries resulted, the conditions that led to the injury, and anything else you can remember to help prove someone else was the reason you got hurt.
You should also hire one of the Merrillville personal injury lawyers from Custy Law Firm | Accident & Injury Lawyers. We understand how to navigate the legal process and provide appropriate evidence to prove your claim.
It's tough trying to handle an injury case alone. Indiana law dictates specific deadlines for filing a lawsuit and statutes regarding the compensation you can pursue. If you don't know how things work, you won't understand your rights and how much money you should seek.
Types of Personal Injury Claims
We handle personal injury claims arising from many different accidents. It's essential to know that you can file a personal injury claim if your injury happened because an individual or entity was reckless or negligent. Following is a list of just some of the most common types of personal injury accidents we handle:
A large number of personal injury cases involve motor vehicle accidents. Negligence exists in a car crash when the driver fails to behave safely and responsibly behind the wheel. It could be because they're texting on their phone, speeding, or driving under the influence.
Slip and Fall Accidents
A slip and fall accident generally falls under the broader category of premises liability. It occurs when a person slips or trips on a hazard and falls, injuring themselves. The property owner is responsible for maintaining a safe area for its guests. That means repairing damage, wiping a wet spot, or removing objects left in someone's path.
Product Liability Cases
When someone gets injured because of a defective product, the manufacturer or seller should take the blame. All products on the market must meet the specific expectations of the consumer. If a defect or undisclosed side effects cause harm, there's the potential to seek compensation.
Construction Accidents
Construction sites are dangerous. There's heavy machinery, loose debris, and toxic chemicals. Many times, unfinished structures could collapse, leading to life-threatening injuries. Tools, building materials, and machines result in an accident if the operator doesn't use them properly. The construction company or owner of a third-party site could assume liability in those situations.
Medical Malpractice
Everyone expects their doctor to perform their job correctly. If someone breaks a bone, an orthopedic surgeon fixes it. If an elderly patient requires round-the-clock care, their caregiver must assist them in taking their meds, bathing them, and performing other routine tasks. Unfortunately, doctors are human. They make mistakes. A mistake could cause an existing medical condition to worsen or an injury to become a permanent disability. In this situation, your physician or the medical facility could take the blame and owe you compensation for your expenses.
Trucking companies employ drivers to transport goods and cargo on large commercial vehicles, such as 18-wheelers. Although federal and state regulations exist, many truckers don't hold a commercial driver's license or don't receive proper training. Additionally, some companies fail to perform routine maintenance and necessary repairs. When that happens, an accident is likely, which results in injury to another motorist.
A brain injury is traumatic and could lead to various issues. The brain could suffer irreversible damage when someone suffers a blow to the head or gets jostled around in an accident. Brain injuries often lead to memory loss, vision problems, trouble hearing, loss of vital bodily functions, and many other medical conditions.
Debilitating effects could result from a spine or spinal cord injury. Just like a brain injury, spinal injuries negatively impact a person's ability to function normally. They could experience life-long back pain, difficulty walking, or even become paralyzed. This type of injury is usually the result of a car accident, slip and fall, or work-related hazard.
Burn injuries are some of the most painful and debilitating injuries one can experience. They can result in scarring, disfigurement, and emotional trauma. A personal injury lawyer can help burn injury victims demand compensation for medical bills, lost wages, pain and suffering, and other damages caused by these injuries.
When a pedestrian and a motor vehicle collide, it will be bad for the pedestrian. A seasoned pedestrian accident attorney can help you pursue the compensation you need for the debilitating injuries often following a pedestrian accident.
A bicycle accident can be devastating in terms of injuries and financial consequences. It might take extensive medical care and rehabilitation for the bicyclist to recover.
Motorcycle accidents are known to cause severe injury and death. Contact an attorney to help you seek compensation for your injuries and losses.
Dog bites are serious injuries that can cause immediate and lasting complications, including infections, permanent scarring, and emotional injuries. Our knowledgeable lawyers can help you demand justice and fair compensation after a preventable dog bite injury.
When someone causes the death of your loved one through negligence or an intentional act, an attorney can help you seek the compensation you deserve for your and your family member's suffering.
What Is a Personal Injury?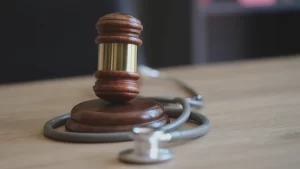 A personal injury case exists when there's an injury to a victim's body or emotional harm, and someone else is legally responsible for the harm. Injuries have the potential to be painful and lead to costly treatments and permanent disabilities. You shouldn't have to pay for the negligence of another person. If you have substantial evidence that the other party contributed to your injury, you might have a good chance of bringing legal action against them.
Injuries happen when an external force harms you. A personal injury case doesn't exist if you caused the accident. For example, if you lost control of your car because you were speeding and crashed into a tree, there's no one to blame but yourself. When another driver was speeding, or a doctor prescribed the wrong medication, you could likely pursue a personal injury claim.
The Indiana State Department of Health defines an injury as bodily harm caused by exposure to physical agents. It can be intentional or unintentional. It could also lead to death, a disability, or life-long medical issues. Over 600,000 people go to the emergency room yearly because of an injury.
An auto accident is the leading cause of injury-related death for people under 24 years of age. Those over 65 often suffer fatal injuries from a fall. These statistics show how important it is to remain vigilant at all times. It may seem overly cautious, but when you get behind the wheel, step onto someone else's property, or undergo a medical procedure, take note of any potential hazards.
Speak with a Merrillville Personal Injury Lawyer Today
We're available 24/7 to answer your questions or schedule an appointment. If you want to meet with us to discuss your injury case, call (219) 286-7361. Our experience has helped us recover millions of dollars for victims of accidents and injuries over the years.
We can assist you if you got hurt on a construction site, in an auto accident, or on another person's property. Call us to schedule your free case evaluation.
Related Posts: