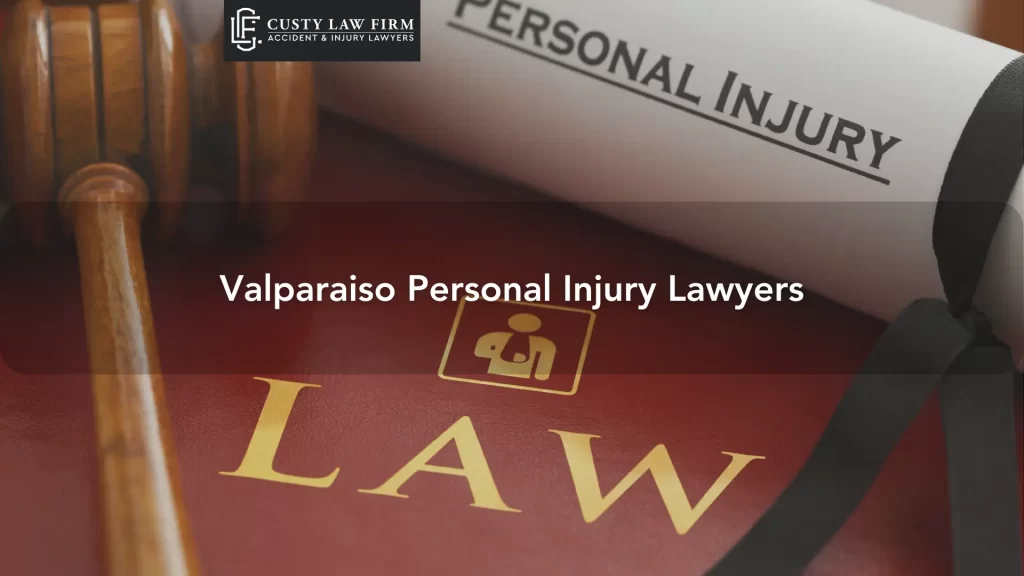 You could be entitled to significant compensation if you got hurt or lost a loved one due to someone else's negligence. At Custy Law Firm | Accident & Injury Lawyers, our team of skilled and experienced personal injury lawyers is here to help those who get hurt in Valparaiso. You could be eligible to receive compensation for your losses. This could include current and future medical bills, lost wages, emotional distress, and more.
At Custy Law Firm | Accident & Injury Lawyers, we do everything possible to recognize and represent our clients' needs. We care deeply about each client. That's why we always provide personalized attention and professional, knowledgeable representation. We know this is one of the most challenging times of your life, and we want to help you get back to what matters most.
We believe in honest representation, a compassionate approach, and aggressive litigation. Let us show you why the Valparaiso attorneys at Custy Law Firm | Accident & Injury Lawyers have been the preferred choice for many others in our community. Call us at (219) 286-7361 or online to schedule a free case evaluation today.
Why Do I Need a Personal Injury Lawyer?
At Custy Law Firm | Accident & Injury Lawyers, our attorneys know the confusion, stress, and strain many injury victims face after severe injury accidents. We have dedicated our careers to helping people like you and families like yours when you need it most. We know that you've likely never experienced anything like this before, and we are here to help you understand your rights and legal options. Our goal will be to handle all the legal legwork for you and let you focus on what is most important: recovering from your injuries.
Depending on the circumstances, we might consult expert witnesses to build your case. A personal injury lawyer from Custy Law Firm | Accident & Injury Lawyers can help you do all of that. Our broad network includes accident reconstruction experts, legal investigators, and medical professionals. We work together to help our clients build a robust and solid case.
Insurance companies for responsible parties are notoriously difficult to deal with. After your accident, an insurance agent will likely approach you and do everything possible to get you to accept a lowball settlement. They do this because they know they will be paying out a lot more if you have an attorney representing you.
If an insurance agent approaches you, do not speak to them. Wait until you contact a lawyer and have them negotiate on your behalf.
What Exactly Does a Personal Injury Lawyer Do?
An excellent personal injury lawyer can change the trajectory of your legal case and do a lot to improve your situation.
At Custy Law Firm | Accident & Injury Lawyers, we'll do the following to help you:
Listen to your needs and understand your situation
Calculate and document all losses
Ensure that all paperwork and documentation gets filed correctly
Collect crucial evidence in your favor
Interview witnesses who saw the accident and can back up your claim
Negotiate on your behalf
Represent you in trial
Look over prospective settlement offers and help you find a settlement in your best interest.
Overall, it can be stressful and overwhelming to file a lawsuit. Right now, you need to be able to focus on healing and moving forward with your life. You don't need the additional weight of handling a lawsuit alone. Hiring an experienced and knowledgeable Indiana personal injury lawyer is the best thing you can do for your case.
Why Choose Custy Law Firm | Accident & Injury Lawyers?
At Custy Law Firm | Accident & Injury Lawyers, we know that you have a lot of choices when it comes to legal representation. So, what makes us stand apart? First of all, our attorneys have a deep commitment to honest representation. You need to trust that your lawyer will always act in your best interest, and at Custy Law Firm | Accident & Injury Lawyers, we'll do just that.
Our attorneys have the distinction of being in The National Trial Lawyer Top 100. We've won hundreds of cases and helped individuals from all over the state receive settlements that have changed their lives.
Founding attorney Brian Custy attended the prestigious Gerry Spence Trial Lawyers College. There, he received professional training in how to represent people. Not corporations or big insurance companies.
Custy Law Firm | Accident & Injury Lawyers also has the honor of employing John Joyce, attorney at law. Joyce served our nation as a United States Marine and attended Gerry Spence Trial Lawyers College.
At Custy Law Firm | Accident & Injury Lawyers, we never want someone to avoid retaining a necessary lawyer because of the cost. That's why we work with many of our clients on a contingency-fee-basis. That means we won't charge you a dime until we help recover your losses and get you the compensation you deserve.
Call us at (219) 286-7361 to schedule your free consultation today.
What Types of Cases Does Custy Law Firm | Accident & Injury Lawyers Handle?
Our injury lawyers have extensive experience handling various personal injury cases. Below are some of the kinds of personal injury cases our firm handles regularly:
Our firm also deals with transportation accident cases and wrongful death cases. If you or someone you love requires skilled legal representation, contact us today at (219) 286-7361.
What Steps to Take Following Your Accident
The aftermath of any personal injury accident can be overwhelming and stressful. While you probably want to go home and rest, there are a few essential steps to take first. Immediately after your accident, you must go to a doctor and get a thorough medical exam. While you might feel okay, sometimes the adrenaline that courses through your body after an accident can hide injuries. Only a licensed doctor can determine the extent of your injuries.
It's also vital that you start collecting evidence in your favor. Take photos of the scene, any injuries you've suffered, and anything else around you that you think might help your case. Are there witnesses? Interview them. Ask them what they saw, and write down everything they say. Finding others that can back up what you experienced is important, as that will only give you a more believable case for court.
Next, you should contact a personal injury lawyer. A personal injury lawyer will conduct a thorough investigation of your case. They can hire expert witnesses if necessary and construct a solid case in your favor.
How Much Time Do I Have to File a Claim?
Every state has different laws that dictate how long you must file a claim after an accident. In Indiana, you have up to two years from the date of an accident to file an injury case. If you file a day after those two years, you lose out on any possibility of compensation.
There are some rare exceptions for legal disabilities. Those with specific legal disabilities might have a different start date on their two-year window. If you're uncertain whether you qualify for an exception, contact an experienced injury lawyer who can determine your window.
Contact Us Today
At Custy Law Firm | Accident & Injury Lawyers, every client is our most important client. Every case is unique, and we give our all to addressing each situation individually. We strive to help our community members become financially secure and recover from losses.
If someone else's bad behavior injured you or someone you love, you need to contact a Valparaiso personal injury lawyer today.
Contact us online or call us at (219) 286-7361 today.