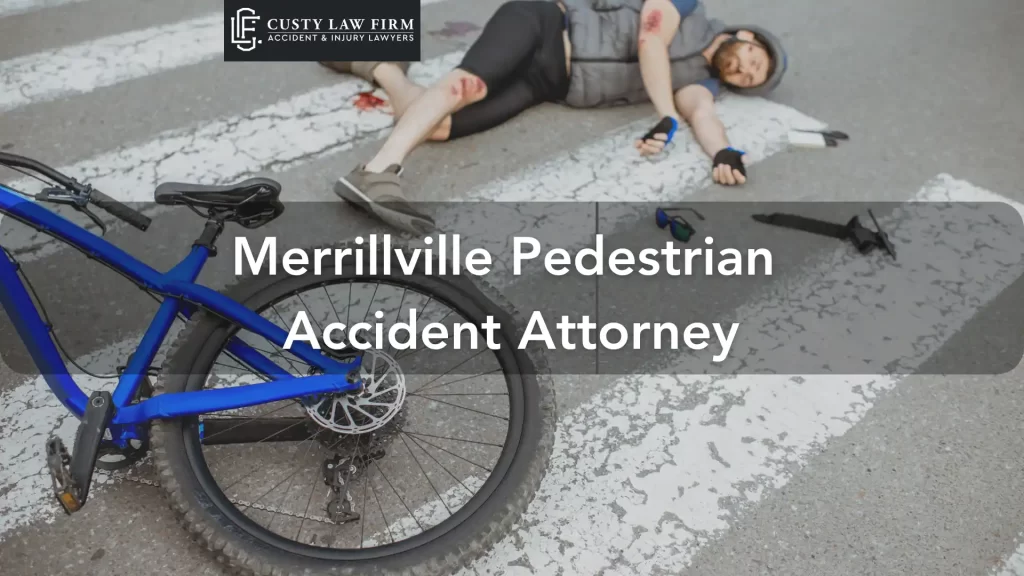 Are you the victim of a pedestrian accident? This terrifying experience can rattle your world and damage your finances. It would be best if you didn't have to tackle the many bills and expenses that come your way while trying to heal when the accident wasn't your fault. The law allows you to hold the driver responsible and seek money from them for your accident-related expenses and losses.
The Merrillville personal injury attorneys of (219) 286-7361 can take over everything about your case so you can focus on healing. We understand the stress you are under. We've successfully helped people like you fight for their rights for years and want to help you, too. Contact us at (219) 286-7361 for a free consultation to discuss your case.
Risk Factors for Pedestrian Accidents
The Centers for Disease Control and Prevention reported 7,000 pedestrian deaths in auto accidents in 2020. That number doesn't account for those who suffered severe injuries. The problem is massive.
The drivers of vehicles are usually responsible for these types of accidents since they are behind the wheel of a deadly piece of motor-powered machinery, and their choices can create dangerous situations. Driving tired, distracted, or under the influence of drugs or alcohol can increase the chances of an accident.
Speeding is another cause. When drivers exceed the posted limits, they ignore the research and careful consideration taken when setting those limits for the roadway conditions. These signs are not suggestions. The U.S. Department of Transportation states speeding is a factor in almost one-third of all fatal accidents.
These accidents may also occur due to the inability to see the pedestrian due to weather, lack of lighting, or dark clothing. A lack of sidewalks and proper crosswalks also could play a role.
The National Safety Council reported most accidents involving pedestrians occur at night in urban areas. Older adults and children are most likely to be the victims.
Common Injuries from Pedestrian Accidents
Pedestrian accidents almost always result in serious injuries. The soft tissues and organs of the human body cannot stand up to the heavy metal of a vehicle.
The impact often occurs around the legs or pelvis. If there is enough speed at the time of the collision, the victim may flip into the air and land on the vehicle, leading to an additional impact. Finally, the victim may fall or roll onto the ground for a final impact.
Each part of this process leads to additional injuries to more of the body. Common problems resulting from a crash include:
Brain trauma
Broken bones
Internal bleeding
Neck damage
Spinal injuries
Due to the violent nature of these accidents, death is also possible.
Responsibilities of Pedestrians and Motor Vehicle Drivers
Both pedestrians and drivers have rules they must follow to help prevent accidents. Unfortunately, if both parties do not do their part, serious crashes occur.
Pedestrian Responsibilities
Indiana Code Section 9-21-17 states pedestrians must
Follow all traffic control signals
Yield the right of way to drivers when crossing outside crosswalks
Walk on sidewalks when they are available,
Walk on the far edge of the roadway when sidewalks are not present
Some prohibited actions include:
Leaving the curb suddenly into oncoming traffic
Crossing diagonally at intersections without proper signals or crosswalks
Hitchhiking or solicitation on roads
In addition, local ordinances can prohibit pedestrians from crossing the road outside crosswalks.
Driver Responsibilities
Drivers must follow all road laws, including obeying speed limits and all traffic signs and signals. When they see a pedestrian in the roadway, they should give them the right of way, but blind pedestrians, indicated by either a white-tipped cane or guide dog, always have the right of way.
In addition, Indiana Code Section 9-26–1-1.1 requires drivers to stop and stay at the scene of an accident. They must provide their name and contact details to the other party if possible and have an obligation to contact law enforcement. It is a crime to leave the scene.
Compensation After an Accident
The severe injuries from such a collision can leave you struggling under the weight of the medical bills and other expenses that keep adding up. The other party's negligence led to your current pain and suffering, and you have the right to make a personal injury claim against them.
You could pursue compensation for all costs associated with the accident, including:
Lost wages
Medical expenses
Loss of enjoyment of life
Pain and suffering
Property damage
Dealing With Insurance Companies
Since the situation involves a motor vehicle, you'll first file a claim with the at-fault driver's insurance company. However, insurers are in business to make money and will work diligently to avoid paying out as much as possible.
Because of this, these companies hire aggressive attorneys who focus on getting you to agree to a low settlement amount. Never accept a settlement without consulting your attorney. You need someone on your side who is familiar with insurance company and defense attorney tactics to negotiate a full settlement for you.
An Accident Resulting in Death
You may need help because your family member died in a pedestrian accident. The personal representative of the deceased's estate can bring a wrongful death claim for the benefit of the surviving spouse and dependent children under Indiana Code Section 34-23-1-1. Compensation available under this type of lawsuit includes:
Medical expenses
Lost earnings
Loss of love and companionship
Funeral and burial expenses
Seek Help from an Attorney Today
A personal injury case requires knowledge of the law and procedures. Your claim could go to court if your attorney cannot reach an appropriate settlement with the insurance company or their defense attorneys. You need an experienced attorney willing to work diligently to uphold your rights.
Our dedicated team of attorneys works on a contingency fee basis. You will not pay us anything upfront, and we won't collect our fee until we get money for you. If you get no compensation, we don't get paid.
Contact Custy Law Firm | Accident & Injury Lawyers today at (219) 286-7361 to set up a free consultation, and let us get to work pursuing the compensation you deserve to help you get your life back together.