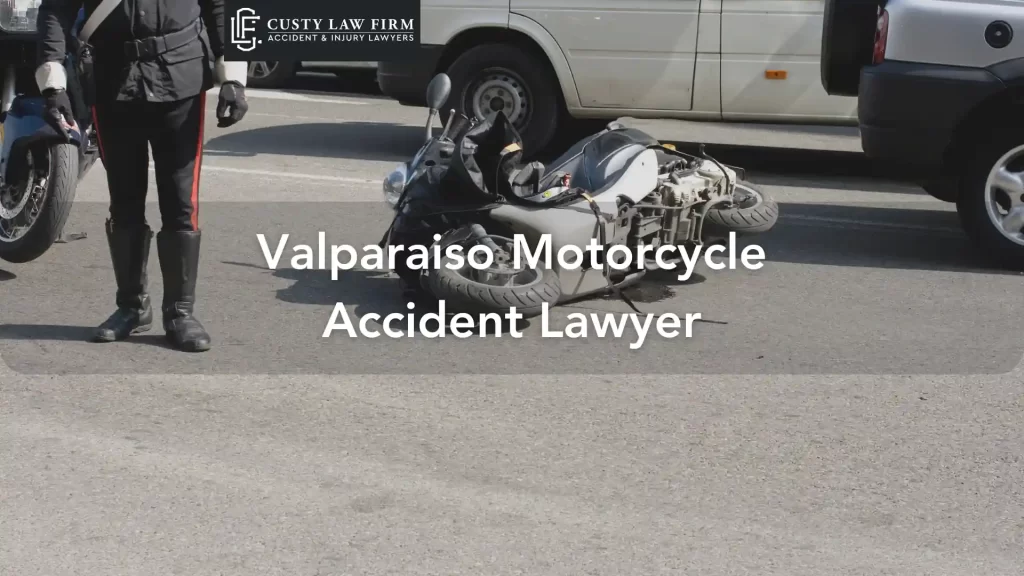 Were you hurt in a motorcycle accident in Valparaiso? Did you lose a loved one in a tragic motorcycle accident due to the negligence of another motorist or other entity? If so, the knowledgeable and compassionate motorcycle accident attorneys of Custy Law Firm | Accident & Injury Lawyers are ready to help you get the answers, compensation, and justice you deserve.
There is no doubt that motorcycle accidents are more dangerous and deadly than passenger vehicle accidents. Motorcycles lack the protective exterior of a passenger vehicle and other safety features such as seat belts and airbags.
Although motorcycle accidents in Indiana make up a small percentage of total collisions (1-2 percent, depending on the year), they are disproportionately fatal. In 2018, 13 percent of traffic collision fatalities in Indiana occurred due to motorcycle accidents.
Following your motorcycle accident, you likely feel stressed and unsure of your next steps. You may have more medical bills than you can pay, and you may be unable to work due to your injuries. If a loved one died during a motorcycle accident, you likely feel immense grief as you deal with funeral costs and other financial stresses.
If another individual was at fault during the motorcycle accident, you may be eligible for more compensation than you initially realize. A Custy Law Firm | Accident & Injury Lawyers Valparaiso attorney will fight to ensure you receive all the compensation you are entitled to. Contact us today at (219) 286-7361 for a free consultation so we can start working on your legal case.
Why Do I Need a Lawyer?
Working with a skilled, experienced motorcycle accident attorney is crucial for receiving the highest compensation possible. A thorough and independent investigation is necessary when claiming another driver was at fault for an accident. Usually, police officers and insurance companies will investigate the accident and make a report about what happened. Your attorney will also investigate and make sure that no information is missing.
Having a lawyer is also critical to ensure you don't accidentally incriminate yourself and jeopardize your case. Even if you know that you were not at fault for the accident, the at-fault driver's insurance company or lawyers may ask you questions in a way that makes you look bad. Your attorney will handle communications with adverse parties to minimize this risk.
Finally, an experienced motorcycle attorney, like the ones at Custy Law Firm | Accident & Injury Lawyers, will know how much compensation you can expect based on your unique circumstances. The opposing party may offer you a settlement to avoid going to trial, and your attorney can advise you on whether or not you should take this settlement. Our motorcycle attorneys provide aggressive representation for bikers who get hurt. We understand these cases and won't let the other side try to pin the blame on you or avoid liability for the crash that caused you harm.
Why Should I Choose Custy Law Firm | Accident & Injury Lawyers?
At Custy Law Firm | Accident & Injury Lawyers, we are proud members of our Valparaiso community and work hard to fight for injury victims. We receive outstanding testimonials from clients who appreciate our availability, honesty, and work ethic. We fight hard for our clients and consistently secure significant settlements and verdicts for our clients.
Many people worry that hiring a lawyer will be too expensive. At Custy Law Firm | Accident & Injury Lawyers, we operate on a contingency fee basis, meaning we will take a percentage of your overall settlement instead of charging you hourly. If we don't win your case, then you don't owe us any money.
Common Motorcycle Accidents
Like everyone on the road, motorcycle riders are responsible for driving safely and following all traffic laws. In our experience, most motorcycle riders pay extremely careful attention to following these laws because they know they are at a higher risk of injury if involved in an accident.
Unfortunately, many drivers of other vehicles are inattentive and cause accidents. Even if drivers are paying attention, they may be focused on looking for oncoming vehicles or trucks and fail to notice the slimmer profile of a motorcycle.
A very common accident between passenger vehicles and motorcycles is when a passenger vehicle makes a left-hand turn across an opposing lane of traffic and fails to see an oncoming motorcycle, causing the motorcycle to crash into the vehicle or lose control in an attempt to swerve away from the vehicle. In such situations, the driver can still be liable even if the motorcyclist hits the car.
These are some other common causes of crashes between cars and motorcycles:
A car following a motorcycle too closely
Not noticing a motorcycle in the rearview mirror and cutting them off while merging lanes
Driving while intoxicated
Running a stop sign or red light; failing to yield in an intersection
Motorcyclists must drive defensively every moment on the road to avoid a possible crash with a reckless driver.
Common Motorcycle Accident Injuries
Because motorcycles have so few protective features, accident injuries are often extremely severe, especially if the rider travels at high speeds. Many of our motorcycle accident clients suffer from the following injuries:
You must seek medical attention as soon as possible following your accident. Not only is it in the best interest of your health, but seeking immediate medical attention will make it easier to prove that your injuries resulted from your accident.
How Much Money Is My Case Worth?
Your ultimate amount of compensation depends on the circumstances of your accident. In general, if you decide to pursue a personal injury claim against the at-fault driver of your accident, you are eligible for two kinds of damages: economic and non-economic.
Economic damages include past, present, and future medical bills, property damage, and lost wages. To be fully compensated for your economic damages, it's crucial to keep careful track of any bills or invoices you have received associated with your accident.
Non-economic damages are those for which money can only be an approximate substitution rather than a direct one. This category includes pain, suffering, and emotional trauma. It's difficult to put an exact dollar figure on non-economic damages. However, compensation for non-economic damages often equals 1.5 to 5 times your economic damages.
To make the case that you should receive compensation for non-economic damages, we may choose to hire a mental health professional to examine you and then testify about your mental state. It's also helpful if you start a journal in which you document how your injuries and emotional trauma interfere with your ability to live your life the way you did before the accident.
Frequently Asked Questions
These are some of the most common questions we receive regarding motorcycle accidents. If you have any additional questions, please do not hesitate to contact us at (219) 286-7361 for a consultation.
What is a personal injury lawsuit, and how is it different from an insurance claim?
A personal injury lawsuit is a claim you file in court against the at-fault driver. An insurance claim requests compensation from your insurance company or the at-fault driver.
Insurance payouts often cover some of your current medical bills and vehicle repairs. Sometimes the compensation is sufficient to pay your bills, but more often than not, victims fight tirelessly against insurance companies only to have a fraction of their bills paid.
Personal injury compensation packages can be much more comprehensive than insurance claim payouts. You will often not receive compensation from an insurance company for pain and suffering. Personal injury settlements often include compensation not only for your current medical bills but also for future ones.
I wasn't wearing a helmet during my accident. Am I still eligible for compensation?
If you are over 18, you are not legally required to wear a helmet while riding a motorcycle. If the other driver caused the accident, you can still file a personal injury claim, regardless of whether or not you were wearing a helmet. However, we strongly recommend that all motorcycle riders wear helmets.
What if I was partly at fault for the accident?
Partial responsibility, or shared liability, sometimes occurs in accidents between motorcycles and passenger vehicles. However, if we can prove that the other party was more at fault for the accident, you may still be able to receive compensation.
Let's say your actions somewhat contributed to the accident, but the other party's actions mostly caused the accident. The court might decide, for example, that you were 25 percent at fault and the other driver was 75 percent at fault. In this case, the other driver would have to pay 75 percent of the damages you incurred due to the accident.
Contact Us
Motorcycle crashes are some of the most frightening accidents on the road. They often lead to serious injury and even death. The trauma of getting into a motorcycle accident can lead to severe and lasting mental trauma. At Custy Law Firm | Accident & Injury Lawyers, we understand the gravity of your situation and the stress and fear you may feel.
At Custy Law Firm | Accident & Injury Lawyers, our Valparaiso attorneys fight tirelessly to advocate for accident victims. We do everything we can to ensure our clients get the compensation they deserve. We would like to hear about your situation. Give us a call today at (219) 286-7361 to ask any questions or to schedule a free consultation.