Dog bites can have tragic consequences for victims. A severe and unforeseen injury from a dog bite can affect your ability to live independently and support yourself and your family. If you suffered a dog bite injury in Merrillville through no fault, you could be entitled to compensation for your personal and financial losses.
The Indiana dog bite attorneys at Custy Law Firm | Accident & Injury Lawyers can provide qualified, professional legal assistance as you pursue fair compensation from a personal injury claim. We offer free consultations and don't charge legal fees unless we recover compensation. Call (219) 286-7361 or contact us online to arrange a meeting with one of our experienced dog bite attorneys today.
Indiana Dog Bite Laws
Indiana law presumes that all dogs are harmless domestic animals. Dog bite victims can overcome this presumption with evidence of a dog's known or dangerous propensities, such as proof of specific acts by the particular animal. A dangerous propensity is a dog's tendency to do anything that might endanger persons or property. When a dog owner has knowledge of a dangerous propensity, Indiana law imposes a duty on that dog owner to use reasonable care to prevent the animal from causing harm.
Many state laws contain so-called "one-bite" rules, which limit dog owners' liability for injuries their dogs cause if they have never bitten anyone. In Indiana, courts have held that animals are not entitled to one "free" bite before their owners can be held legally responsible. Indiana requires dog owners to keep their dogs under reasonable care and control even if they are unaware of any vicious tendencies in their dogs.
Strict Liability for Dog Bites
In Indiana, dog owners are strictly liable when their dogs bite any person carrying out official duties under Indiana or federal law. Strict liability means that a dog owner is liable regardless of their actions, intentions, or state of mind.
Any dog that, without provocation, bites a person acting peaceably and in a location where that person is required to discharge a duty imposed upon them by the laws of Indiana or the United States subjects its owner to strict liability for any harm caused by the bite. The strict liability law specifically includes postal workers such as mail carriers. The owner of a dog that bites a public official is liable for all damages suffered by the person, even if the dog has not previously behaved viciously or bitten anyone else.
Criminal Liability for Dog Bites
Indiana law subjects dog owners to criminal liability (Class C misdemeanor charges) if:
They recklessly, knowingly, or intentionally fail to take reasonable steps to restrain a dog;
Their dog enters a property other than the property of the dog's owner; and
As a result of the owner's failure to restrain the dog, the dog bites or attacks another person without provocation, resulting in bodily injury to the other person.
Indiana charges this offense as a Class B misdemeanor if the owner has one prior conviction and a Class A misdemeanor if they have more than one prior conviction or the violation results in serious bodily injury.
If a dog owner recklessly violates Indiana's dog bite law, and the violation results in the death of a person, Indiana charges it as a Level 6 felony. If a dog owner intentionally or knowingly violates Indiana's dog bite law, and the violation results in the death of a person, it's a Level 5 felony.
Stray Dogs
Indiana's dog bite statute does not apply to a nonaggressive dog that goes beyond the owner's premises onto agricultural or forested land. In most cases, a dog owner commits a Class D infraction if they allow the dog to stray beyond their premises. However, the owner can avoid liability if the dog is under reasonable control or is engaged in lawful hunting accompanied by the owner or a custodian. Indiana law elevates the offense to a Class C infraction if the owner has a record of violating Indiana's dog bite statute in the past.
Compensation Available for Dog Bite Claims
The money you receive for a personal injury claim arising from a dog bite could provide compensation that reimburses you for:
Hospital stays and other medical expenses
Lost wages
Lost earning capacity
Pain and suffering
Loss of enjoyment of life
Emotional distress
Property damage
Defenses to Dog Bite Lawsuits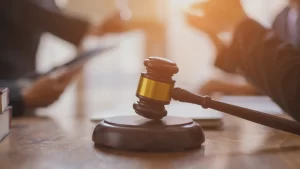 In a dog bite lawsuit, a dog owner might assert one or more of the following defenses to disprove the victim's case:
The Victim Provoked the Dog
Provocation refers to intentional actions such as teasing, angering, or bothering a dog. While this willful behavior meets the definition of provocation, other unintentional actions could also serve as grounds for this defense, such as failing to see a dog and stepping on its tail. Any behavior or action that causes a dog to behave aggressively can constitute provocation in a dog bite case.
The Dog Did Not Bite the Alleged Victim
Dog owners and insurance carriers often assert that the dog did not technically bite anyone. In most cases, a dog bite refers to a dog closing its teeth around part of your body. The owner might deny liability if the dog did not take this specific action.
Assumption of Risk
If someone tells you not to pet their dog, but you do it anyway, the owner or insurance company might assert that you knowingly assumed the risk by petting the dog. If the bite resulted from the dog's owner failing to take reasonable care and control of the dog, however, this defense might not succeed.
Dog Bites and Trespassers
Indiana law says that dog owners can be liable for dog bites to trespassers if they recklessly, knowingly, or intentionally fail to take reasonable steps to restrain their dogs.
Contact an Indiana Dog Bite Lawyer
Call our team of dedicated personal injury lawyers if you or someone close to you suffered preventable dog bite injuries, Custy Law Firm | Accident & Injury Lawyers can help you hold the dog's owner accountable and demand fair compensation for your losses. Call (219) 286-7361 or contact us online today to arrange a free consultation.