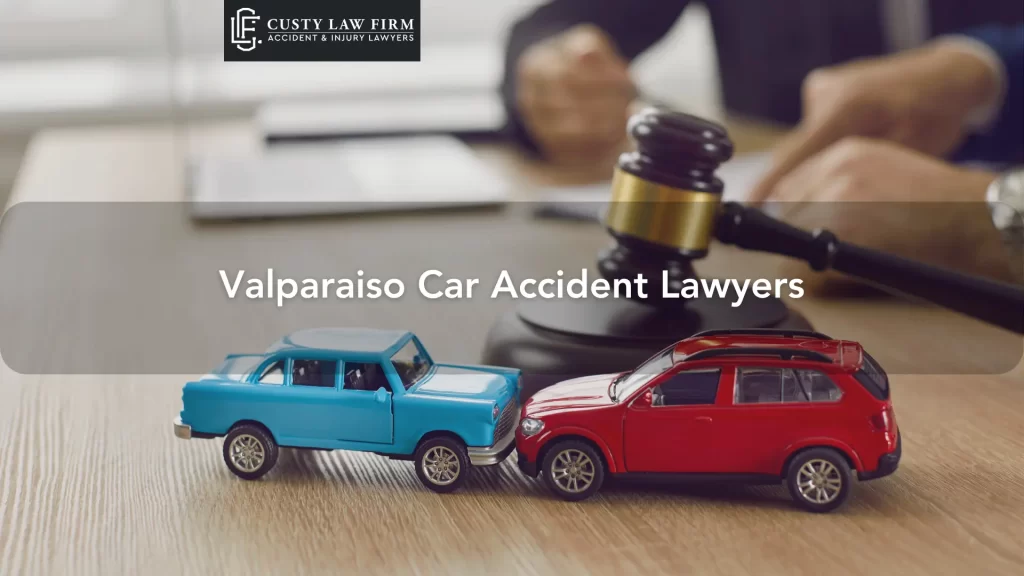 Were you hurt in a car accident in Valparaiso? If so, turn to an experienced Valparaiso injury lawyer at Custy Law Firm | Accident & Injury Lawyers for the qualified legal counsel you need and deserve.
Each year, thousands of Indiana drivers are injured in collisions caused by distracted, intoxicated, speeding, or otherwise negligent drivers. In 2017, Indiana Traffic Safety Facts reported more than 219,000 collisions, 834 of which were fatal.
You deserve answers and justice if you were hurt or lost a loved one in a car accident. After an accident, you are likely facing costly medical bills, an inability to work and collect wages, emotional distress, and pain and suffering. You shouldn't have to pay out of pocket for someone else's negligence, and our attorneys will do everything in our power to get you the maximum compensation possible, whether through a settlement or a trial if necessary.
At Custy Law Firm | Accident & Injury Lawyers, we want to help you regain your footing and put this crash behind you. Our Indiana attorneys have a strong track record of success in car accident claims, and we're ready to put our experience to work for you.
Our Valparaiso attorneys believe no one should worry about how they'll afford an attorney to represent them. That's why we represent all of our clients on a contingency-fee-basis. When you hire us, you won't pay us a single penny unless we secure a verdict or settlement for you. There's no risk to call and discuss your case; you'll pay nothing until we win money for you. Call us today for a free consultation at (219) 286-7361.
Why Do I Need a Car Accident Lawyer?
In the aftermath of a severe injury accident, having someone on your side is crucial, protecting your rights, health, and financial interests. You'll undoubtedly have a lot to deal with, from the physical pain of your injuries and medical treatment to the financial concerns of when you can return to work and how you'll repair or replace your vehicle. With an attorney on your side, you can rest easier knowing that someone is looking out for you and working to get you the full compensation you deserve.
After the accident, an insurance company representative for the other party will likely contact you. While the insurance adjuster might seem friendly and concerned about your situation, remember that their goal is to save their company money. They will do all they can to minimize their liability, which means shifting the blame onto you or others. If an insurance representative approaches you, never say anything to them until you retain a lawyer.
Another important legal service that a car accident lawyer can provide is ensuring you meet all deadlines. Most personal injury accidents have stringent deadlines to follow to be eligible to receive compensation. There are specific documents that you must file on certain days. You will lose any chance of receiving compensation if you miss a deadline.
At Custy Law Firm | Accident & Injury Lawyers, our attorneys work with an extensive network of experts, such as accident recreation experts, investigators, medical professionals, financial experts, and more. We work together to collect evidence in your favor, create a solid case, and win our clients the compensation they need to cover their losses and focus on recovery.
Why Choose Custy Law Firm | Accident & Injury Lawyers?
At Custy Law Firm | Accident & Injury Lawyers, we believe in integrity and honest representation. We believe in providing each client the personalized attention they deserve and making every client a priority. We work harder every day than the last to ensure our clients get the settlements they deserve.
Our lawyers also have the distinction of being named part of the National Trial Lawyers Top 100. We've additionally received recommendations from hundreds of our past clients. Our results speak for themselves. We know you and your family have suffered significant losses due to the negligence of others. Let us help you recoup your losses and move forward with your lives.
Recent Settlements for Local Car Accident Victims
At Custy Law Firm | Accident & Injury Lawyers, our attorneys have the experience and know-how to secure the compensation you deserve. Our results speak for themselves. Following are examples of car accident verdicts we have won and settlements we have secured for our clients:
$1,085,000 for clients' injuries and losses from a van wreck involving an alleged tire detread and an intoxicated driver.
$550,000 for a client injured when a Sheriff's officer ran a red light and t-boned his truck.
$248,000 insurance maximum for a couple rear-ended at a stoplight in Illinois by a negligent driver.
$112,500 for losses following rear-end collision.
If you or someone you love got hurt in a wreck with a negligent driver, let Custy Law Firm | Accident & Injury Lawyers work for you and help you recover for your losses. Call us at (219) 286-7361 to schedule a free initial consultation.
Common Causes of Car Accidents
Negligent drivers are unfortunately common, and they leave severe injuries in their wake. There are many types of negligent drivers, but the following list represents some of the most common causes of car accidents:
Distracted Driving: Distracted driving is the most prevalent cause of car accidents. If a driver is distracted visually, physically, or mentally, and their focus strays from the road, serious accidents occur. Distracted driving can include texting and driving, applying makeup while driving, or using the radio while driving.
Breaking the Speed Limit: When drivers ignore the speed limit, they put themselves and everyone around them at risk. High speeds usually indicate slower response times and an increase in vehicle aggression. The risks of breaking the speed limit increase when driving in poor weather conditions.
Drunk Driving: Driving while intoxicated is one of the leading causes of car accidents in America today. Drunk drivers choose to endanger everyone with their poor decision-making, slower response times, and inability to operate a vehicle properly.
There are many ways in which a driver can drive negligently and cause severe damage. You could be eligible for significant compensation if you got hurt in an accident with a negligent driver.
Common Car Accident Injuries
The sheer weight of an average vehicle and the speed at which vehicles move lead to catastrophic injuries. There are so many ways you can get hurt in a car accident. The following list represents just some of those injuries:
Scrapes and Cuts: Hitting your head and other body parts against the window, dashboard, steering wheel, and more can cause severe scrapes and cuts. You are also at risk from any flying debris in your vehicle. While some scrapes and cuts can heal independently, more serious injuries require stitches and longer healing time.
Broken Bones: Any car accident puts an unnatural amount of force onto your body, putting you at risk for broken bones. Some heavily injured bones can necessitate surgery and the inability to work while you heal. Ribs are very fragile and can break very easily in a car accident. A broken rib can cause respiratory issues and take months to heal.
Head Trauma: Traumatic brain injuries and other head injuries can cause serious medical issues and far-reaching complications. Surgeries, physical therapy, and an inability to work can all come from head trauma caused by a car accident.
Internal Bleeding: Internal bleeding can soon turn dangerous or deadly if not treated quickly after a collision. Internal bleeding isn't always apparent and often takes the diagnosis of an experienced medical professional.
Post-traumatic Stress Disorder (PTSD): Not all car accident injuries are physical. The stress of a car accident can lead to extreme anxiety and mental issues that can last a long time after the accident. You may need therapy and time off of work to heal.
And these aren't all the injuries you could face after a car accident. Negligent drivers cause serious, and sometimes fatal, injuries every day by choosing to endanger others on the road.
How Long Do I Have to File a Claim?
In Indiana, you usually file a claim two years from the accident date. There are certain exceptions, and an experienced Indiana car accident lawyer can help you determine when your two-year window begins. If you miss a deadline or file something incorrectly, you will lose your chance to file a lawsuit for the damages caused by your car accident. Contact a car accident lawyer today to ensure you meet all deadlines and don't miss out on valuable compensation.
Contact Us Today
If you or someone you know got hurt in a car accident caused by another driver, you could recover compensation for medical bills, pain and suffering, therapy, lost wages, and more. Let Custy Law Firm | Accident & Injury Lawyers help you recoup your losses so that you and your family can move forward and return to what matters.