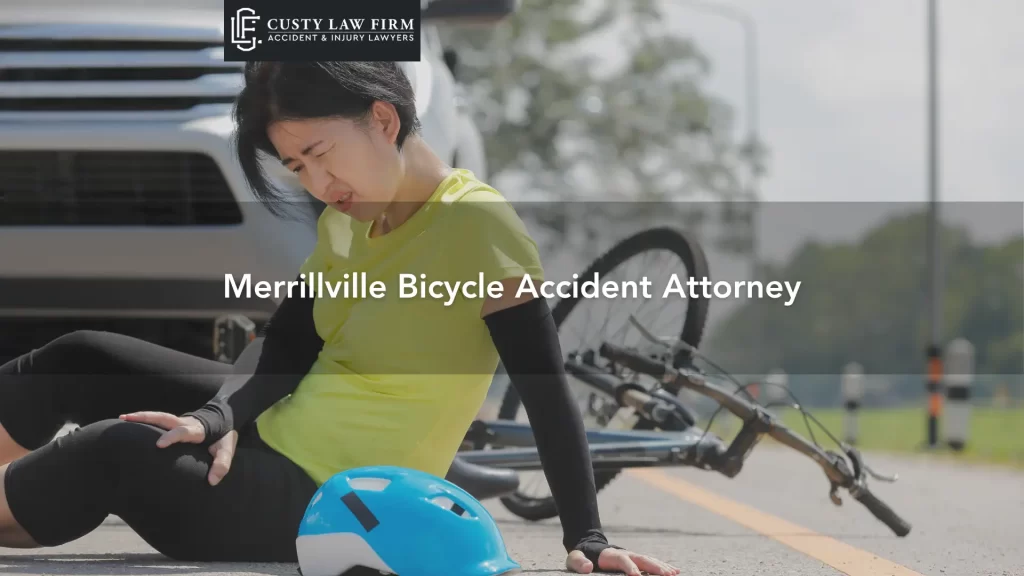 Were you in a bicycle accident someone else caused? Did it leave you with injuries requiring medical care to heal? If so, contact Custy Law Firm | Accident & Injury Lawyers for more information. You might be entitled to compensation.
Although bikes offer excellent methods of exercise and transportation, they can be dangerous. Sharing the road with drivers presents an increased risk of accidents. You might cross paths with a careless driver and get hurt despite the safety precautions you take.
At Custy Law Firm | Accident & Injury Lawyers, we understand the aftermath of a bike accident can be overwhelming. You face extensive treatment, expensive medical bills, and a potential injury case. It would be best if you did not pursue action alone. Let us help you hold the negligent driver accountable.
Call Custy Law Firm | Accident & Injury Lawyers at (219) 286-7361 today for a free consultation with an experienced Merrillville bicycle accident attorney.
Common Types of Bicycle Accidents
Bike accidents can take many forms. Whether a bicyclist encounters another rider, pedestrian, or motor vehicle, a collision can lead to severe injuries.
The most common types of bicycle accidents include:
Left-turn accidents – Drivers must slow down or stop before proceeding with a left-hand turn under specific circumstances. Typically, approaching an intersection requires giving oncoming traffic the right of way unless there's a green arrow. Completing the turn without looking first can lead to a catastrophic accident.
Sideswipe accidents – Some drivers don't notice bicyclists near their vehicles. Or they don't respect their space. A motorist might pass a biker too closely or drift into their lane, sideswiping or running them off the road.
Rear-end collisions – A rear-end accident commonly occurs when a driver tailgates someone else's car. However, they can also result from a driver tailgating a bicyclist. Sometimes, bikers must share the road with vehicles if a designated bicycle lane isn't available. An impatient motorist won't have enough time to brake and avoid a collision if they follow the bicyclist too closely.
Dooring accidents – Street parking spots are often between the curb and designated bike path. After parking, drivers must look behind them for approaching bicyclists. If they don't, they might open their car door in the path of a rider.
Backing up accidents – Backing out of a parking space in a parking lot or driveway requires looking behind for passing bikers, pedestrians, and cars. If drivers don't check their surroundings first, they can back into a bicyclist in their path.
Common Causes of Bike Accidents
Numerous situations can contribute to a bike accident, especially involving careless or inattentive drivers. Sometimes, drivers don't notice bikers traveling nearby and crash into them while turning or changing lanes.
Bicycle accidents can happen for multiple reasons, such as:
Fatigued driving – Fatigue is more dangerous than people think. It can compromise driving abilities and lead to a catastrophic collision. Fatigue often causes a slower reaction time, reduced motor skills, and poor judgment. It can also cause a person to fall asleep at the wheel.
Speeding – Exceeding the speed limit might prevent a driver from having total control of their vehicle. They can lose control and swerve into a bike lane or crash into the back of a bicyclist stopped at a light ahead.
Distracted driving – Texting while driving is the most common type of driver distraction. However, numerous distractions exist that can direct a driver's attention elsewhere. Slamming on the brakes or maneuvering out of the way of a bicyclist is more challenging if a driver can't see them.
Driving under the influence – Alcohol and drugs interfere with normal faculties. Driving is risky with any amount of an intoxicating substance in the body. Drunk drivers are less likely to notice a dangerous situation or biker in their path.
Tailgating – When bikers don't have designated bicycle paths, they must ride on the road. A driver behind them might be in a rush and tailgate to force the biker out of their way. However, traffic can suddenly come to a standstill, preventing the driver from braking in time to avoid hitting the rider.
Common Injuries Caused by Bicycle Accidents
Bike accidents can lead to debilitating injuries. Some collisions are fatal for bicyclists. According to the Centers for Disease Control and Prevention, almost 1,000 bikers die, and over 130,000 get hurt in accidents annually.
The most common injuries bikers sustain in crashes include:
Broken bones
Road rash
Traumatic brain injury
Organ damage
Spinal cord injuries
Internal bleeding
Burn injuries
Whiplash
Severe lacerations
Penetrating injuries from flying debris
Psychological trauma
Back and chest injuries
Possible Compensation After a Bike Accident
In Indiana, every driver must carry liability insurance with these minimum required limits:
$25,000 for bodily injury or death to one person
$50,000 for total bodily injury or death in one accident
$25,000 for property damage
You can file a claim with the negligent driver's liability insurer even though you were on a bike during the collision. The compensation you receive might cover your:
Loss of enjoyment of life
Ambulance services, rehabilitation, assistive medical devices, and other medical expenses
Pain and suffering
Emotional distress
Lost wages
Lost earning capacity
Damage to personal property
Is There a Deadline to File a Lawsuit in Indiana?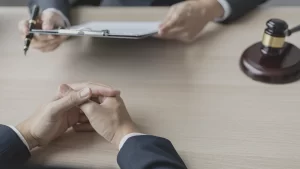 Yes. You must comply with a strict deadline to sue someone for your injury after a bike accident. In Indiana, the statute of limitations allows a two-year timeframe to file a lawsuit. That means you have two years from the crash date to initiate your lawsuit against the liable driver. Once two years pass, you will likely lose your right to compensation in court proceedings.
Hire a Merrillville Bicycle Accident Attorney You Can Trust
You should not have to handle your bicycle accident claim alone. Let Custy Law Firm | Accident & Injury Lawyers step in and take over the complicated process. We can pursue action against the negligent driver or another party responsible for your injury. You can count on our experienced legal team to fight for your rights and seek the maximum compensation.
If someone else's negligent actions caused your injuries in a bike accident, call Custy Law Firm | Accident & Injury Lawyers at (219) 286-7361 for your free consultation. We're available 24/7, so you can reach us when you need us most.