Valparaiso Lawyers for Breaks and Sprains from a Motorcycle Accident
While a motorcycle ride can feel like pure freedom, when you have been hurt on your motorcycle because of a collision that wasn't your fault, you remember that a motorcycle doesn't provide the safety that a vehicle does. A motorcycle collision can lead to severe injuries, including broken bones and joint sprains. These will require medical diagnosis and treatment and can lay you up for weeks or months.
The Valparaiso motorcycle accident lawyers of Custy Law Firm | Accident & Injury Lawyers understand this. We have experience helping the victims of motorcycle accidents pursue compensation for injuries they sustained because of someone else's carelessness. Call us at (219) 286-7361 for a free initial consultation. We'll discuss your circumstances and help you determine what your next best steps should be.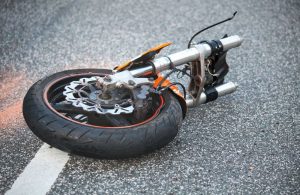 Why Do I Need a Lawyer?
You may not think you need a lawyer. However, trying to secure compensation for your injuries and expenses will lead you to confrontations with insurance companies and defense attorneys. Hopefully, this is your first and only motorcycle collision, but it isn't the first time insurance companies have dealt with matters of this type. They have one goal in mind: to limit their costs and to keep as much money as they can. Defense attorneys will want you to believe the accident was your fault and to absolve their client of any responsibility for the collision they caused.
That's why you need a lawyer like those from Custy Law Firm | Accident & Injury Lawyers to represent you. We have dealt with insurance companies and defense attorneys in motorcycle collisions before. We know the tactics they may use to try to get you to accidentally implicate yourself or to get you to accept a smaller settlement than you deserve. We have the experience to counter those tactics and get excellent results for our clients.
Why Do I Need Custy Law Firm | Accident & Injury Lawyers?
Custy Law Firm | Accident & Injury Lawyers is an experienced law firm. We fight to get our clients a fair settlement or verdict. Our goal is to work aggressively on your case and bring it to a successful conclusion. We will work with you, keeping in contact with you, and we won't make any decisions without your input. We give nothing less than our best when we represent you and your interests. We will always be here for you.
Types of Broken Bones
Any bone of the body can be broken in a collision involving a motorcycle. These are some of the breaks that may happen.
Head. Even with a helmet on, injuries to the head can occur. The violent impact of the collision may result in a skull fracture. According to Johns Hopkins, the types of skull fracture include linear, the most common, which is a break in the bone. There is also a depressed fracture, which is when an impact creates an indentation in the bone. Diastatic fractures happen along the suture lines of the skull. Finally, Basilar skull fractures is the most serious and involve a fracture at the base of the skull. Other fractures that can involve the head are broken noses, optic bone breaks, and a broken jaw.
Neck/spine. A broken neck or spine may result in paralysis, but not necessarily so. Still, such a break is to be treated seriously and may require extensive therapy or time to heal properly. A break in the neck or spine may be a crushed vertebra or the displacement of a disc, resulting in excruciating pain and surgery.
Shoulders/collarbones. A broken collarbone is difficult to treat since there is no real way to make the collarbone immobile. A shoulder can require an upper-body cast and a sling.
Arms/elbows/hands. Breaks can be compound or simple. A simple break can be a fracture of the arm bone or bones, while a compound fracture means the bone has pierced the skin and is exposed. The compound fracture adds the risk of infection to the break injury. As with most breaks, a cast may be required for full healing of the arm, the elbows, and the hands.
Ribs. Rib breaks cannot be set and may cause harm to internal organs, resulting in a punctured lung or internal bleeding.
Hips. A broken hip will result in the victim being immobilized for a period of time and will require extensive casting. A break such as this can affect your mobility in the future.
Legs/ankles/knees/feet. As with the arms, the breaks of the legs can be simple or compound. Breaks to the complex structures of the ankles or feet may require casting.
Any broken bone can have an effect on your long-term health and mobility. Some breaks may be life-threatening, such as a skull fracture or broken ribs, which can affect the brain or internal organs. The mending of bones takes about six to 12 weeks for proper healing and may require surgery to set the bones. Medical treatment should always be a priority when a bone is broken.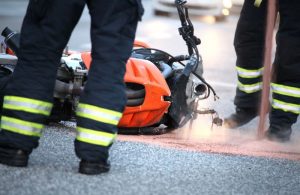 Types of Sprains
Sprains are injuries to the ligaments that connect the bones in our joints. Symptoms are soreness and swelling. Sprains are classified by varying degrees of injury.
First-degree. A first-degree sprain is the mildest form of a sprain. For ankles, treatment includes keeping the leg elevated and treating with pain medication and an ice bag. The ligament is stretched but not snapped. It can be treated at home.
Second-degree. This degree of injury involves one or more ligaments being damaged and will require more extensive medical treatment.
Third-degree. A torn ligament is treated as a third-degree sprain. Treatment includes immobilizing the joint and possible surgery to sew the ligament back together.
Sprains are also divided into three types:
Inversion sprain. An inversion sprain is caused by twisting or turning the joint inward.
Eversion sprain. An eversion sprain is caused by twisting or turning the joint outward.
High sprain. This is caused by jamming the joint. In a motorcycle accident, the wrist, elbow, knee, or ankle may be smashed into the asphalt, creating a high sprain of that joint.
Contact Us Today
Custy Law Firm | Accident & Injury Lawyers is committed to helping our clients. You can call us at (219) 286-7361 and make an appointment with us, or contact us online. The first consultation is free. We want to hear your story and begin working with you to determine what course of action will help you get fair compensation for the injuries that were someone else's fault.
Call us today at (219) 286-7361.