Valparaiso Lawyers for Muscle Sprains and Tears Suffered in Motorcycle Accidents
If you sustained a muscle sprain or tear in a motorcycle accident due to the negligent actions of another person, contact the Valparaiso motorcycle attorneys of Custy Law Firm | Accident & Injury Lawyers right now. You might be entitled to financial compensation for your injury and resulting medical bills, lost wages, and other incurred costs.
A sprained or torn muscle might not seem like a serious injury. However, it can cause excruciating pain and lead to various complications. You could experience a loss of mobility, numbness, and additional symptoms. Tears and sprains can keep you from your job and prevent you from performing routine tasks. It's disruptive and affects a person's quality of life.
The cost of treating a muscle tear or sprain can become a significant expense. If you can't afford to pay your medical bills, you could face debt. Many accident victims encounter financial struggles while treating these types of injuries. You should receive the compensation you need to cover your incurred costs, so you're not forced to pay out of pocket.
Custy Law Firm | Accident & Injury Lawyers understands how devastating a motorcycle accident can be. When you're struggling to heal, the last thing you want to deal with is an insurance claim. We can take on the responsibility and handle every step of the process for you, so you can focus on your treatment. You will receive the personalized attention and service you need to get through this traumatic time in your life.
Call Custy Law Firm | Accident & Injury Lawyers at (219) 286-7361 today for a free consultation with one of our Valparaiso lawyers for muscle sprains and tears and learn more about how we can help.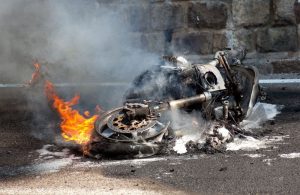 What Are Muscle Sprains and Tears?
Sprains and tears are soft tissue injuries. These injuries affect soft tissue in the body, such as tendons, muscles, and ligaments.
Muscle Sprains
A sprain occurs when the fibrous tissue connecting two bones in the joint tears or stretches. The most common symptoms of a sprain include:
Bruising
Pain
Limited ability to move the joint affected by the sprain
Feeling or hearing a pop in the joint when the injury occurs
Swelling
A doctor can diagnose a muscle sprain by taking X-rays or MRI scans of the injury site. The doctor needs to check for tenderness and swelling in the limb and determine whether you suffered fractured bones.
Treating a sprained muscle might require no more than rest and icing the affected area. You could treat your injury at home without medical intervention. However, a severe sprain could require surgery. Physical therapy is also common to strengthen the muscle and improve mobility.
Muscle Tears
A muscle tear, also referred to as a strain, happens when there's an injury to the fibrous tissue connecting the muscle to a bone. Overstretching a muscle could occur and lead to minor symptoms. However, a severe muscle strain can involve a complete or partial tear within the tissues.
The most common symptoms of muscle tears include:
Swelling
Bruising or redness
Muscle spasms
Limited range of motion
Tenderness or pain
Muscle weakness
Diagnosing a muscle tear requires a physical exam by a doctor to check for points of tenderness and swelling in the affected area. A severe and complete tear of the muscle could require an ultrasound.
Treating muscle tears is similar to treating muscle sprains. If the injury is minor, you could rest and ice the area to decrease swelling. You might also need physical therapy to strengthen the injured joint or limb and improve stability. Your doctor could recommend a splint or brace to immobilize the location of the injury and prevent further damage.
Common Causes of Motorcycle Accidents
Motorcycle accidents can occur for a range of reasons. Multiple factors are often at play when motorcyclists find themselves on a collision course with a car or truck. Since motorcycles are smaller than other vehicles, drivers find it difficult to see riders near them. A motorist who doesn't check their blind spots before maneuvering their vehicle could sideswipe a motorcyclist riding alongside.
The most common causes of motorcycle accidents include:
Drowsy driving
Failure to yield the right of way
Speeding
Tailgating
Passing the motorcyclist too closely
Failure to check blind spots
Distracted driving
Opening a car door into the rider's path
If someone's negligence caused a motorcycle accident that resulted in your torn or sprained muscle, contact Custy Law Firm | Accident & Injury Lawyers immediately to discuss your case. We can investigate the crash and determine who to hold liable for your injury.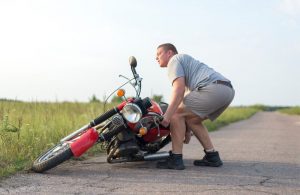 Compensation Available for a Motorcycle Injury
You could file a claim with the at-fault driver's insurance company if they caused the accident and your muscle sprain or tear. The compensation you receive should cover various losses suffered in the crash, such as:
Medical bills
Property damage
Lost wages
Lost earning capacity
Emotional distress
Pain and suffering
If the insurance company offers an insignificant settlement or denies your claim, you could proceed with a lawsuit. You must follow a statute of limitations to sue someone for your injuries. Indiana requires filing your lawsuit within two years of the accident date if you want to seek compensation. Once the deadline passes, you could lose your right to seek money from the at-fault party in court.
Losing a loved one in a motorcycle accident is a devastating experience. The negligent driver could have prevented the crash if they had behaved more responsibly. If you're a surviving family member, you could recover compensation for your losses in a wrongful death case.
Contact Us
At Custy Law Firm | Accident & Injury Lawyers, our Valparaiso lawyers for muscle sprains and tears have a proven track record of success. We have received various awards and accolades from prestigious organizations for our work. You can feel confident knowing you're in trusted and experienced hands when you hire us.
Our legal team is available 24/7. You can reach us when you need us the most. We believe in providing accident victims with quality and dependable customer service no matter what. You will receive the one-on-one attention and legal guidance necessary to get on the road to recovery.
If you sustained a torn or sprained muscle in a motorcycle accident someone else caused, call Custy Law Firm | Accident & Injury Lawyers at (219) 286-7361 right now. We can meet you for a free consultation to discuss what happened and determine if you have a case to pursue.