Valparaiso Brain Injuries from Motorcycle Accident Lawyers
Indiana law does not require adults to wear motorcycle helmets while riding, though people under 18 must wear them. While helmets are designed to limit head injuries, the violence of a collision between a car and a motorcycle can still cause damage to the head and brain despite any helmet. It is always important after a collision that you seek medical diagnosis and treatment. This is particularly true when a possible brain injury is involved.
And if the accident was caused by someone else, you may be eligible for compensation from the at-fault party or their insurance company. Your injuries may result in a growing pile of medical bills, lost time from work because you need to heal, and possibly additional costs to repair your motorcycle. You need help.
The Valparaiso motorcycle accident lawyers of Custy Law Firm | Accident & Injury Lawyers have vast experience in handling this type of claim. Call us at (219) 286-7361 today for a free initial consultation. We'll discuss your case and advise you about your next best steps.
Why Do I Need a Lawyer?
A brain injury from a motorcycle accident means extensive treatment and recovery. The costs can add up quickly. Since the accident wasn't your fault, you will want to be compensated for your injuries and losses. The process begins with contacting the at-fault party's insurance company. The insurance company's focus is to protect themselves and their clients and to keep their costs as low as possible. They will employ lawyers. These lawyers will try to make it look like the accident was your fault, even though it wasn't.
That's why you need a lawyer. You need a lawyer like Custy Law Firm | Accident & Injury Lawyers who has experience fighting for your best interests against insurance companies and defense lawyers. We can protect your rights and prevent you from accidentally incriminating yourself.
Why Do I Need Custy Law Firm | Accident & Injury Lawyers?
Custy Law Firm | Accident & Injury Lawyers is skilled in fighting the forces arrayed against you. For over ten years, we have been working to hold insurance companies and people who cause accidents accountable on behalf of victims like you. We know what the law can do for you, and we know the tricks insurance companies may try to use against you. We will work with you and for you to reach a settlement or a trial outcome that will provide fair compensation for your injuries and losses. Working closely with you, we will not make any important decisions without your approval.
What Types of Brain Injuries Can Happen in a Motorcycle Accident?
When you were in the collision, your head came to a sudden stop, but your brain continued to travel inside your skull due to the momentum. The collision could also damage your skull, which could send skull fragments into the brain.
These are the four main types of brain injuries that can occur in a motorcycle accident.
Concussion. A concussion is caused by the bruising of the brain after the brain is thrown against the skull. Concussions may be mild or more severe, depending on how quickly the concussion is diagnosed and treated. The long-term effects can include anything from short-term memory loss to chronic headaches to coma.
Epidural hematoma. This type of brain injury occurs when a blood vessel in the brain bleeds into the brain. The symptoms do not show up immediately and can be fatal.
Subdural hematoma. This results when several blood vessels in the brain begin to bleed and occurs between the brain and the subdural membrane that separates the skull from the brain. Like the epidural hematoma, this can be fatal if not treated quickly.
Coup-contrecoup injury. This is an injury to opposite sides of the brain. The injury occurs when the brain is thrown violently against the skull and rebounds in a countermovement. It generally happens when the skull hits a stationary object, and the initial impact causes a rebound.
Brain injuries can be harmful, even leading to death, so diagnosis and treatment is very important after a motorcycle collision.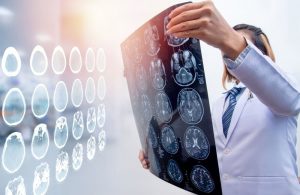 What Are the Symptoms?
Injuries to the brain cannot be seen visually, but the injuries will lead to symptoms that can help diagnose the injury.
Serious headache. Because the skull is an enclosed dome for the brain, any bleeding in the brain or swelling of the brain will have nowhere to go. This will increase pressure on the brain, causing severe headaches.
Possible depression of the skull. A depression fracture may also indicate that the brain has been injured in that general area.
Bruising of the eyes. If blood appears in the eyes, at least one broken blood vessel is present.
Leaking fluid from the ears. The brain sits in a fluid bath that protects it from injury. When the subdural layer is torn, some of the fluid around the brain may leak out through the ears.
Blood behind the eardrum. Because blood has limited ways it can escape, blood behind the eardrums may indicate a brain injury and should be checked out.
Loss of consciousness. If untreated, a blood buildup within the brain and the skull can put enough pressure on the brain to cause it to begin to shut down, leading to unconsciousness.
Rising heart rate or falling blood pressure. As blood continues to leak into the brain or the skull, the heart has to work harder to pump the blood that remains in the body. Blood pressure will drop as there is less blood in the blood vessels than usual.
Memory loss. Pressure on the brain can affect memory. Things that would be easy to recall ordinarily may suddenly become elusive.
Possible hearing or vision loss. Because the eyes and ears are so close to the brain, if blood builds up behind these organs, it could affect sight or hearing.
Difficulty focusing. Any harm to the brain can affect a person's ability to focus.
Contact Us Today
Custy Law Firm | Accident & Injury Lawyers can help you. Call (219) 286-7361 to make an appointment with us. The first consultation is free. We will work with you to explore your options and the best course of action to take to make sure you get fair treatment from the insurance company and defense lawyers. We will fight for you.
Call us at (219) 286-7361, or reach out to us online today.