Valparaiso Lawyers for Cuts and Lacerations from Motorcycle Accidents
When most people imagine the injuries that occur in a motorcycle accident, head trauma and broken bones tend to be the first things that spring to mind. However, some of the most common injuries motorcyclists face in the wake of a crash are cuts, lacerations, and other lesions of the skin.
The skin is the largest organ of the human body, and it is our first natural layer of defense against the outside world. Due to the speed at which accidents often occur, coupled with the fact that motorcycles do not offer the same level of protection as most forms of transportation, motorcycle-accident-related skin traumas can be incredibly painful and potentially serious. The healing process can take long periods of time and could even require extensive reconstructive surgery. What's more, the scarring from these injuries can cause substantial emotional and mental anguish.
The Valparaiso motorcycle accident lawyers at Custy Law Firm | Accident & Injury Lawyers have years of experience assisting people who have suffered these kinds of serious injuries. Our knowledgeable team is equipped with the necessary tools to help victims pursue compensation in such cases when they have come about due to another person's improper actions.
If you've had cuts, scrapes, or lacerations in a motorcycle accident that wasn't your fault, call (219) 286-7361 to consult with us about what your legal options might be. We'll help you take the steps you need to take in order to receive the compensation you require and deserve.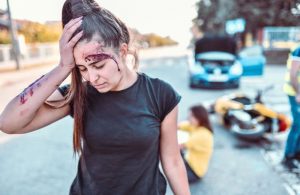 Why Do I Need a Lawyer?
After an accident, many people think that they can handle claims for compensation for their injuries and expenses without legal assistance. But the process of trying to secure compensation is incredibly tricky. Insurance companies and defense attorneys are practiced and skilled at their jobs, and they will do everything they can to make you believe that you are the person at fault for the accident.
With a team like the lawyers of Custy Law Firm | Accident & Injury Lawyers on your side, you'll have the guidance of professionals who know how to handle insurance companies and defense attorneys. We can help protect you from the tactics they often employ to try to get you to assume liability and settle for a smaller sum than you deserve. We're determined to fight for our clients, and for an excellent outcome.
Why Do I Need Custy Law Firm | Accident & Injury Lawyers?
The experienced team at Custy Law Firm | Accident & Injury Lawyers has a track record of getting superb results in motorcycle accident compensation cases. We have worked for over a decade to hold insurance companies and those who cause accidents accountable. We are familiar with all the tricks the insurance companies have up their sleeves, and we know how to avoid the pitfalls those tactics can lead you into. We'll ask for your input before we make any decisions on your behalf because we always have your best interests at heart. We are here for you.
What Types of Cuts and Lacerations Can Happen in a Motorcycle Accident?
While there are several kinds of skin injuries that can result from a motorcycle accident, the main varieties are as follows:
Cut – A cut is a skin wound in which a separation of connective tissue occurs. In a cut, no skin is missing (contrary to a friction burn or an abrasion), but rather separated from itself. Generally, these happen as a result of contact with something sharp, such as broken glass.
Laceration – This refers to a skin wound that is torn or jagged. Like cuts, they also come about due to contact with sharp objects.
Gash – This term denotes a cut that is deeper or longer than common wounds. Gashes happen relatively frequently in motorcycle accidents.
Avulsion – "Avulsion" is a term that refers to a wound in which the tissue is torn away from the body, rather than merely separated from itself. These injuries happen in incidents in which the motorcycle accident victim has experienced severe road rash. Avulsions can result in permanent scarring.
Where Do Motorcycle Accident Victims Suffer Cuts and Lacerations
Cuts and lacerations occur most frequently on the skin of the face, arms, hands, and torso. This is especially true when the victim is not wearing protective gear, but depending on the severity of the accident, they may happen even in spite of the rider's equipment. Lower-body cuts and lacerations are also possible, although they tend to be less common.
Causes of lacerations and cuts in motorbike accidents include:
Blunt force trauma of the body striking the ground or another object
Being dragged on the ground
Compound fractures, which create lacerations when a bone breaks through the skin
A foreign object piercing the skin
Contact with debris at the accident site
Consequences of Cuts and Lacerations
The insurance companies for the at-fault parties in Valparaiso motorcycle accidents will often try to minimize the seriousness of cuts and lacerations. However, because motorcycle riders are far less protection than the drivers of other vehicles, these injuries can indeed result in damage that lasts the remainder of the victim's life.
In a severe laceration, rapid blood loss that occurs due to a motorcycle accident can potentially be fatal. Even when such blood loss is not a risk, however, cuts may become infected if the skin is not cleaned and treated quickly. This can result in sepsis (infection of the blood) and may even lead to amputation.
The loss of a limb, or even permanent scars from lacerations, can lead to a dramatic loss in the quality of a person's life. Some will require skin grafts. Others may need cosmetic surgery or prosthetics in order to have a chance at leading a normal life.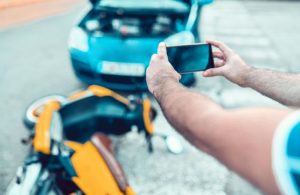 Contact Us Today
If you have been the victim of a motorcycle accident that wasn't your fault, we understand the immense stress you are probably under. Custy Law Firm | Accident & Injury Lawyers is ready to fight on your side for the compensation you deserve, so that you can focus on what's most important: your recovery. We will help you explore all the available options, and we'll do everything we can to protect you from unfair treatment by insurance companies and defense attorneys.
The first consultation is free. Call us at (219) 286-7361, or reach out to us online today.