Valparaiso Lawyer for Psychological Trauma Caused by a Motorcycle Accident
Did a negligent driver injure you in a motorcycle accident, and you've been suffering from psychological trauma ever since? The Valparaiso motorcycle accident lawyers of Custy Law Firm | Accident & Injury Lawyers can help you pursue compensation for your suffering.
Psychological trauma after experiencing a horrific event can be debilitating no matter how strong you are. At Custy Law Firm | Accident & Injury Lawyers, we've represented motorcycle accident victims and helped them obtain the justice and compensation they were entitled to. Our compassionate attorneys are here to help you during this difficult time, so you can recover your losses and try to continue on your healing journey.
To schedule a free consultation, call us at (219) 286-7361 right away.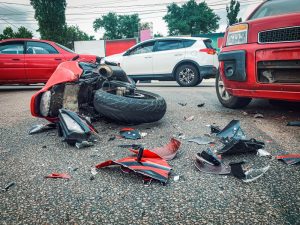 Psychological Trauma and Its Impact on Your Life
Suffering psychological trauma is common for motorcycle accident victims, but that doesn't make battling it any easier. The trauma of the crash can cause you to experience post-traumatic stress disorder (PTSD), which can lead to panic or anxiety any time you see a motorcycle or get into a car.
Psychological trauma can even manifest as physical symptoms, like:
Anxiety and panic attacks
Depression
Nausea
Stomach aches
Dizziness
Headaches
Mood swings
Insomnia
Nightmares
Psychological trauma can severely impact your ability to work or even leave your house to run an errand. You may not be able to enjoy the best your life has to offer because of your new fears or crippling depression that may have resulted from the accident.
How Can I Be Compensated for My Psychological Trauma?
You'll need to file a personal injury claim with the at-fault party's insurance company to pursue compensation for your injury. Your attorney can help with that. Typically, when you file a personal injury claim, there'll be a process of negotiations with the insurance company to obtain the compensation we believe you deserve.
Insurance companies don't want to pay thousands of dollars in claims. If they can offer you a low settlement that doesn't adequately compensate you for your losses, it saves them money. As your attorneys, we're prepared to negotiate with them for as long as it takes to reach an outcome that provides you maximum compensation for your injuries. If our negotiations with the insurance company aren't fruitful or if they don't budge in offering to fully compensate you for your injuries, we're prepared to take your case to trial.
If we reach this point in the process, we'll file a personal injury lawsuit against the driver who was responsible for causing your injuries. This will start a legal court process that will end in a trial. At the end of the trial, where we'll argue that the responsible party should be held liable for compensating you, a judge or jury will render a decision. They'll decide whether to award you compensation and the amount that you'll be awarded.
If you have pressing questions about your case, don't hesitate to contact Custy Law Firm | Accident & Injury Lawyers today.
How Can I Prove that the Motorcycle Accident and My Injuries Caused Psychological Trauma?
To be compensated for your motorcycle accident injuries, you have to prove that you actually sustained those injuries in the motorcycle accident and that the other driver was at fault for injuring you in the accident.
One of the primary ways you can prove that you were injured in the motorcycle accident is by providing your medical records. After you've been injured in a motorcycle accident, you should immediately seek medical attention. You need to be treated for your injuries so that the medical professionals can improve your health, and so they can document your injuries.
The extent of your injuries and the treatment, care, and procedures you had to undergo will all be documented in your medical record. Your medical records will likely show the link between the motorcycle accident and the injuries you sought treatment for at the hospital. These documents will also support the financial costs of treating your injuries that you'll be seeking compensation for.
Additionally, you can prove the psychological trauma you've been dealing with as a result of your injuries and the accident with similar medical records. If you sought psychological therapy or psychiatric treatment for the debilitating symptoms of your trauma, that should be documented in your medical records. We can present these records as part of your injury claim or lawsuit as proof that you suffered a severe psychological injury and should be compensated for it.
If necessary, medical doctors who treated you for your physical and psychological injuries can provide testimony to support your claim and/or lawsuit. People who know you and have witnessed the psychological impact that your injuries and the memory of the accident have had on you may also be able to give testimony to support your claim.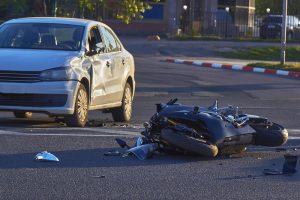 What Losses Are Eligible for Compensation?
When you suffer serious injuries in a motorcycle accident, you will likely incur expensive medical costs for their treatment. Beyond the financial costs, the psychological trauma that you've been battling has equally disrupted your life and impacted you in ways that are hard to quantify. These are the costs you can be compensated for.
The economic and non-economic costs that you can seek compensation for include:
Medical expenses
Lost income or wages
Lost future earning capability
Property damage
Emotional distress
Pain and suffering
Loss of quality of life
Loss of enjoyment of life
The emotional impact of being permanently scarred, disfigured, or disabled because of your injuries
If you have to bring a lawsuit to pursue fair compensation for your injuries, you may be awarded punitive damages by the court. This compensation is awarded in rare cases, however, to punish the negligent driver for their actions.
Call [firm–name] for Help with Your Claim
If you've had to battle psychological trauma because a negligent driver caused you severe injury in a motorcycle accident, contact the Valparaiso motorcycle accident attorneys of Custy Law Firm | Accident & Injury Lawyers for help with seeking the compensation you may be entitled to. Call us to schedule a free consultation at (219) 286-7361.