October 01, 2022
What You Need to Know About Minors and Indiana Motorcycle Helmet Laws
Motorcycles are unique vehicles. They are a source of fun, entertainment, and convenient transportation. They're particularly popular with young riders and passengers under 18.
However, if you want to let your children enjoy the feel of the open road on two wheels, you need to understand Indiana's motorcycle helmet laws for minors. At Custy Law Firm | Accident & Injury Lawyers, our personal injury lawyers want to make you aware of Indiana's motorcycle helmet laws. Not only can wearing a helmet save a child's life, but it is also mandatory.
Indiana's Motorcycle Helmet Laws for Minors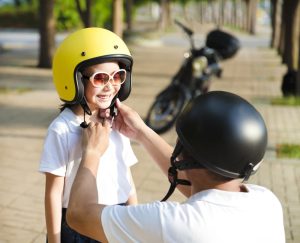 Indiana law requires all minors under 18 to wear helmets and eye protection while operating a motorcycle on state roadways. Passengers who are minors must also wear a helmet and protective eyewear like goggles or a transparent face shield.
Motorcycle helmets need to meet all Federal Motor Vehicle Safety Standards. Each year the Department of Transportation or DOT tests motorcycle helmets to ensure they comply with Federal Motor Vehicle Safety Standards. Helmets must have:
The inner lining of one-inch-thick polystyrene foam
Strong chinstrap secured with rivets
Approved helmets should also weigh three pounds, and nothing should be protruding. All helmets that meet federal safety standards are easily identifiable because they include a DOT sticker on the back of the helmet. Some helmets carry a Snell or ANSI label. These are private organizations that test for safety. While a Snell or ANSI label is helpful, you need to be sure the helmet you choose for your child also has a DOT label and is not a novelty helmet.
Choosing the Right Helmet for a Minor
Beyond DOT compliance, the most crucial factor to consider when choosing a helmet for a minor is the fit. A helmet can't protect your precious loved one if it doesn't fit properly. When picking a helmet for a minor, find a model that fits snugly but is not so tight that it pinches or causes discomfort. A good-fitting helmet should not move around or slip. Most professional motorcycle or helmet retailers will measure your child's head and help you choose a helmet that fits properly.
Since protective eyewear is also mandatory, you may want to consider a helmet with an attached, transparent face shield. If a helmet does not include a face shield, pick up a pair of goggles. The strap on the goggles should extend to fit snugly around the helmet without slipping.
Beware of novelty helmets. Minors may have their eye on helmets in fun colors and designs with their favorite characters, but many of these helmets are considered novelty helmets. Novelty helmets will not adequately protect your child in the event of a collision and are not safety-approved. The National Highway Traffic Safety Administration has more information on spotting potentially unsafe helmets.
Why Wear a Helmet?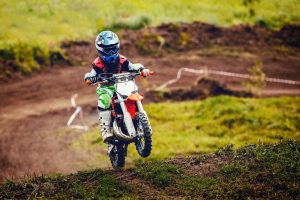 For young people, looking and feeling cool is crucial. Look how motorcycle riding is portrayed in popular media. You will see images of motorcycle riders with the wind in their hair, enjoying the freedom of the open road. Minors may see wearing a helmet as a blow to their image. However, wearing a helmet is vital for several reasons.
There are no two ways about it. Wearing a helmet can save a life. The Centers for Disease Control and Prevention estimate that helmets reduce the risk of head injury by 69 percent. Wearing a helmet also reduces the risk of death by 37 percent for riders and 41 percent for passengers. Choosing to wear a helmet is choosing to prioritize your life and the lives of your family members.
Not wearing a helmet may potentially impact an accident claim. While you may still be owed compensation, your compensation could be diminished if the injured minor was not wearing a helmet at the time of the crash. Indiana is a modified comparative negligence state, meaning compensation in a personal injury lawsuit can be reduced by the same percentage the injured person was liable for causing an accident. While not wearing a helmet could impact a personal injury lawsuit, it can also affect an insurance claim. Comparative fault regulations do not bind insurers in the same way they do the courts. However, insurers will consider how a court would rule when establishing the value of an accident claim.
Finally, if law enforcement catches a minor riding without a helmet, the motorcycle's owner may face fines.
Contact an Indiana Motorcycle Accident Attorney
If you or a minor are involved in a motorcycle accident, contact the Valparaiso motorcycle accident attorneys of Custy Law Firm | Accident & Injury Lawyers for help. Our results speak for themselves, and our team is ready to help you in any way we can.
Don't pay for someone else's careless behavior. Call our office at (219) 286-7361 to set up a free consultation.
Related Posts: