August 26, 2020
Truck Crash Statistics
Mark Twain popularized the quote that there are "lies, damned lies and statistics." Despite this, we've compiled some recent statistics involving truck crashes in the United States.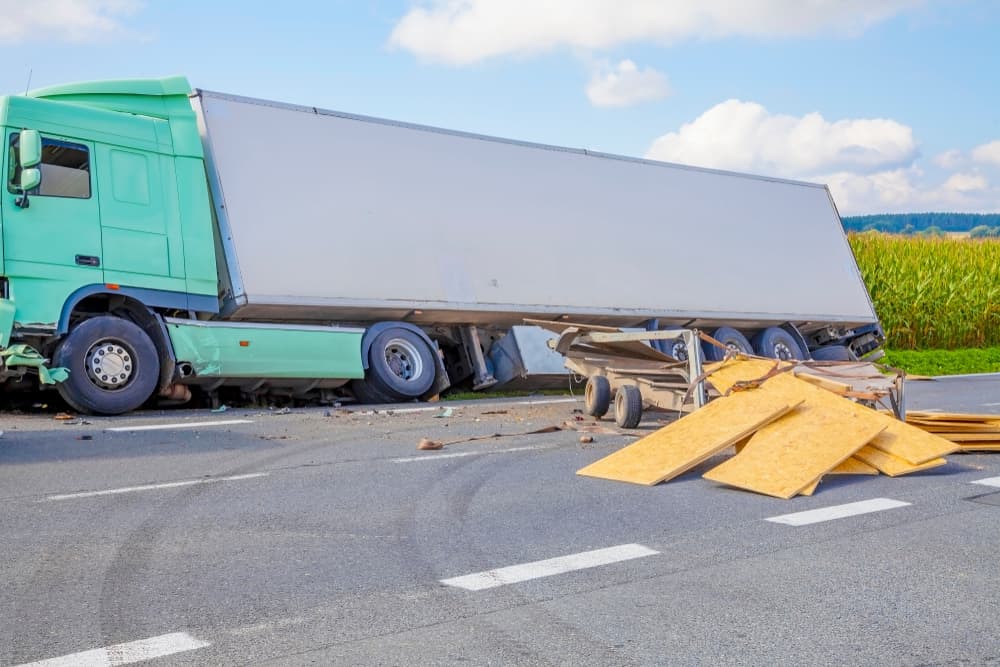 Trucking is big business in America.
5.8% of the jobs in the United States are related to the trucking industry.
In 2017, the American trucking industry posted revenues higher than the GDP of more than 150 nations.
Walmart currently stands as the largest employer of truckers with roughly 8,600.
Large truck related deaths are on the rise.
Statistically speaking, deaths and injuries in the United States due to large truck crashes are on the rise.  Large truck involved fatalities increased in the United States for the 4th straight year in 2018.  The National Highway Traffic Safety Administration reports that 4,678 people died in crashes with large trucks in 2018.  That is an increase of roughly 1% from the prior year.
Further, pedestrians killed in accidents involving large trucks increased a significant 13% in 2018 as compared to 2017.
Non-trucking related deaths are declining.
On the other hand, general motor vehicle crashes resulting in death in 2018 decreased 2.4 percent as compared to 2017.  The breakdown follows:
• Passenger car occupants (702 fewer fatalities, 5.2 percent decrease)
• Van occupants (98 fewer deaths, 8.3 percent decrease)
• SUV occupants (76 fewer fatalities, 1.6 percent decrease)
• Pickup truck occupants (82 fewer fatalities, 1.9 percent decrease)
• Motorcyclists (244 fewer deaths, 4.7 percent decrease)
• Alcohol-impaired-driving fatalities (397 fewer fatalities, 3.6 percent decrease)
• Speeding-related fatalities (569 fewer fatalities, 5.7 percent decrease)
• Fatalities in single-vehicle crashes (654 fewer fatalities, 3.2 percent decrease)
• Fatalities in multiple-vehicle crashes (259 fewer fatalities, 1.5 percent decrease)
• Passenger vehicle occupants killed in rollover crashes (681 fewer deaths, 9.5 percent decrease)
Why do large truck wrecks happen?
The United States Department of Transportation claims that more than 90% of all traffic crashes are a result of human error.
Roughly eighty-seven percent (87%) of the critical reasons for large truck accidents involve the driver's non-performance, recognition, decisions, or performance. Non-performance involves falling asleep, a driver medical condition, or other physical impairment. Recognition and decisions involve such factors as distracted driving, speeding, following too closely, and other driver errors. Performance reasons included poor directional control, driver panic, and overcompensating. Ten percent (10%) of the large truck accidents involved vehicle problems and three percent (3%) involved environmental factors.
Some of the most common causes of large truck accidents include:
Driver error, such as drunk driving, fatigued driving, drugged driving, and distracted driving
Speeding and reckless driving
Inexperienced truck drivers
Weather and road conditions
Improper truck maintenance
Defective trucks or truck parts
Improperly loaded cargo
Immediate action must be taken if you were involved in a truck crash.
Investigating the cause of a large truck crash is crucial to determine who may be liable for damages. Moreover, immediate action must be taken in these types of accidents to preserve critical information including evidence from the black box of the truck which will tell how fast the truck was going at the time of the crash and whether or not the driver hit the brakes or was using cruise control.  However, large trucking companies and their insurance providers aggressively investigate, and fight truck crash claims to minimize their liability.
Victims and their families can greatly benefit by contacting the Indiana, Illinois and Colorado truck accident lawyers at Custy Law Firm | Accident & Injury Lawyers as soon as possible after the crash. An attorney and consulting experts can investigate the crash to determine fault and liability while preserving key evidence needed to secure a fair settlement or jury verdict for the injured.