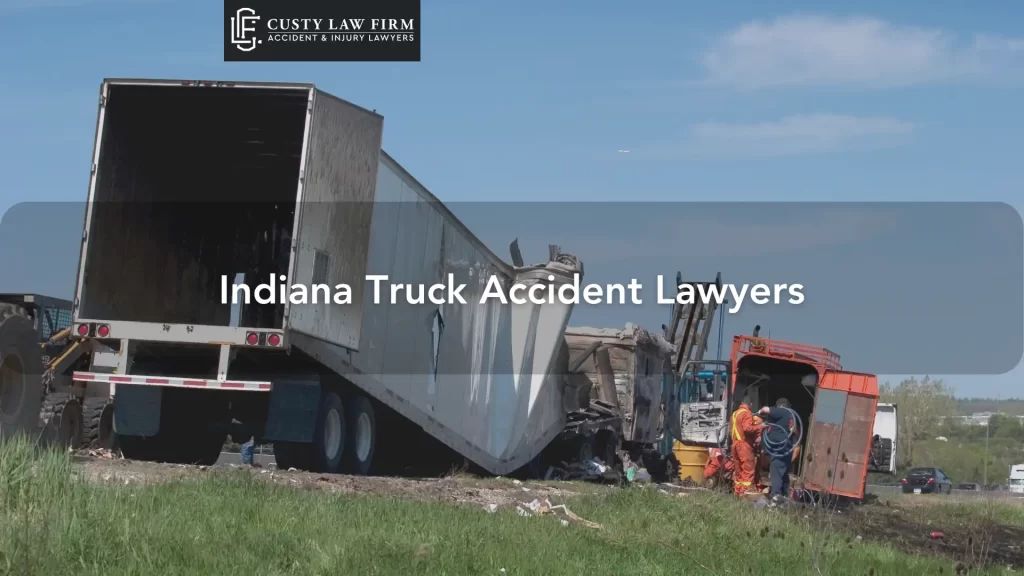 Were you hurt in a truck accident in Indiana? Do you need legal representation? Then you should immediately contact the Indiana truck accident lawyers from The Custy Law Firm | Accident & Injury Lawyers. We have a legal team experienced in handling cases just like yours.
When you hire us, we will dedicate our time and resources to fighting for the maximum compensation. Our clients should receive fair treatment and full compensation for their suffering. It's unfair to bear the financial responsibility of a crash because of another person's poor decisions. We'll work hard to ensure that doesn't happen to you.
Our dedicated, award-winning Indiana attorneys will handle each step of the process for you and help you rebuild your life. Call us today at (219) 286-7361 for a free consultation.
Trucks Come in Many Shapes and Sizes
When a smaller vehicle collides with a commercial truck, the person in the passenger car usually has serious injuries. Going up against an 80,000-pound vehicle can easily result in fatalities. Not only do you have to worry about the initial impact, but you also have to worry about the impact of any cargo that falls off the truck.
Some of the commercial vehicles you could come in contact with on the road include:
Our attorneys have experience handling cases involving a wide range of commercial vehicles, and we're well aware of the damages that can result from accidents with these vehicles.
The Main Reason for Pursuing a Truck Accident Case: Negligence
Negligence is the cause of most truck accidents in Indiana. In a legal context, someone acts negligently when they behave in a way that puts others in danger. Every driver on the road must obey traffic laws and ensure motorists around them are safe from physical harm. When someone acts recklessly and creates a hazardous situation, negligence occurs.
Our Indiana truck accident lawyers often handle cases involving the following acts of negligence:
Driving under the influence of drugs
Tailgating
Reckless driving
Running a red light or stop sign
Inadequately repaired or maintained truck
Poorly trained truckers
Our team will thoroughly investigate your accident to determine its cause and to prove fault in your case.
Truck Driver Negligence vs. Trucking Company Negligence
There's a difference between a trucker's negligence and their employer's negligence. In some situations, it's clear that the driver is to blame, while other scenarios may indicate the trucking company is the culprit behind the accident.
To determine who you can hold financially responsible, hire an Indiana truck accident lawyer from The Custy Law Firm | Accident & Injury Lawyers. We have extensive experience investigating these cases to determine which party or parties are responsible for your accident. One party could hold some or all of the blame for your injuries for multiple reasons.
When the truck driver is negligent, they fail to live up to the standard of using reasonable care while driving. That means failing to drive safely while fatigued, drinking and driving, texting on their phone, or breaking other traffic laws.
A trucking company may have acted negligently if they didn't perform thorough background checks on the truck driver involved in the accident. They could also be negligent for not providing adequate employee training or failing to follow state and federal regulations.
A Truck Driver Hit You – Now What?
If you sustained injuries in a truck crash, immediately contact an Indiana truck accident lawyer from The Custy Law Firm | Accident & Injury Lawyers. The sooner we investigate, the easier it will be to recover evidence.
Evidence in a truck accident case can include anything from photos and police reports to eyewitness statements and medical records. Over time, evidence can get lost, destroyed, or forgotten. If you retain a law firm the day you sustain an injury, you have a better chance of obtaining all the available evidence.
When we take on your case, we'll be sure to collect the following evidence we need to prove your claim:
Police reports
Photos of the accident scene
Photos of your car and the commercial truck
Statements from people who witnessed the crash
The trucker's driving records and driving logs
The truck's load manifest and maintenance records
Insurance policies from the truck driver, their employer, and your auto insurance carrier
Your medical records and billing statements
Prescriptions, receipts, and out-of-pocket expenses related to your treatment
Video surveillance of the collision
We'll work meticulously to gather all the evidence available in your case. We can also use legal recourse to secure evidence from the trucking company, such as the driver's logs and the truck's load manifests.
Your Indiana Truck Accident Lawyer Is On Your Side
You shouldn't speak to anyone other than your lawyer after a truck accident. If you decide to file an insurance claim independently, don't provide any unnecessary information to the insurance adjuster. Whether you seek representation or not, you should keep several dos and don'ts in mind.
Do
Seek medical treatment for your injuries
File an insurance claim with the at-fault party's insurance company
Cooperate with law enforcement that responds to the crash site
Take pictures of the scene, vehicles, and your injuries
Write down the names and phone numbers of witnesses
Take your car in for a property damage valuation
Hire an Indiana truck accident lawyer from The Custy Law Firm | Accident & Injury Lawyers
Don't
Move your vehicle after an accident unless it's necessary for safety
Admit fault for the collision to anyone, especially not to the investigating officer
Sign anything from the insurance carrier until consulting with a lawyer first
Dispose of any potential evidence, such as torn clothing or damaged personal items in your vehicle
Leave the scene of the crash until the police tell you to do so
Agree to the terms of an insurance settlement without assistance from an experienced lawyer
Seeking Justice after a Truck Accident in Indiana
At The Custy Law Firm | Accident & Injury Lawyers, we know how important it is to pursue justice and ensure the at-fault trucker pays for the consequences of their actions. We believe in fighting for full and fair compensation for our clients. When you hire one of our Indiana truck accident lawyers, we will help you navigate the complex legal system. When your case involves negligence, you need to ensure the following five elements existed at the time of the accident:
The defendant owed you a duty of care;
The defendant breached that duty;
If not for the defendant's actions, you wouldn't have sustained an injury;
The defendant's action or inaction was the proximate cause of your injury, and they should have foreseen this happening; and
You incurred damages.
The damages available in Indiana after a truck accident may include the following economic and non-economic losses:
Medical costs, past and future
Past loss of income and future lost wages
Permanent disability or disfigurement
Vehicle repair or replacement
Emotional or psychological trauma
Physical pain and suffering
What If There Was a Fatality?
When someone dies from their truck accident injuries, their immediate family can seek compensation for their damages. A wrongful death case is a situation in which someone's wrongful act caused the death of another person.
Since the deceased cannot pursue a lawsuit, their loved ones can on their behalf. Usually, the personal representative of the deceased's estate can claim damages and collect a financial award. However, they can also represent the interests of the surviving spouse, children, or dependents.
The damages available in a wrongful death case include:
Funeral and burial costs
Medical and hospital expenses
Lost wages and benefits the victim would earn if they were still alive
Costs of pursuing a wrongful death suit
Indiana law places a two-year statute of limitations on wrongful death cases. That means you must sue the at-fault trucker or trucking company for your loved one's death within two years of death if you want to recover compensation.
Schedule Your Free Consultation
We offer free consultations for those interested in speaking with an experienced Indiana truck accident lawyer about their case. If you suffered an injury in a truck accident and want legal advice, you should contact The Custy Law Firm | Accident & Injury Lawyers.
We believe victims of accidents deserve legal representation and the opportunity to pursue the monetary award they deserve to pay for their expenses. You shouldn't have to pay for the mistake someone else made.
Injured in a Truck Accident? Call Custy Law Firm | Accident & Injury Lawyers
We know you're in pain, out of work, and struggling to pay your medical bills. A truck accident can upend anyone's life and create an overwhelming, difficult situation. When you're facing the financial burden of recovering after an accident, the last thing you want to do is pay more before you get your much-deserved compensation.
At The Custy Law Firm | Accident & Injury Lawyers, we want to ease your load and hold those who caused your injuries accountable. We will take your case on contingency, so you don't have to pay any upfront fees or costs. That means we won't get paid unless there's a settlement or favorable jury verdict at the end of your case. If we're unable to win your case, you won't owe us any money.
Call (219) 286-7361 to schedule your free consultation with one of our Indiana truck accident lawyers.