The National Highway Traffic Safety Administration reports that about 5.5 million car accidents occur in the country each year. Those accidents result in 3 million injuries and about 40,000 fatalities annually. Some factors that contribute to car accidents, such as weather conditions, are out of a driver's control. The top cause of accidents, however, is driver error. The broad category of driver error encompasses distracted driving, driving under the influence, speeding and driving while fatigued. To keep yourself and other drivers safe on the roads, it is important to maintain a habit of defensive driving.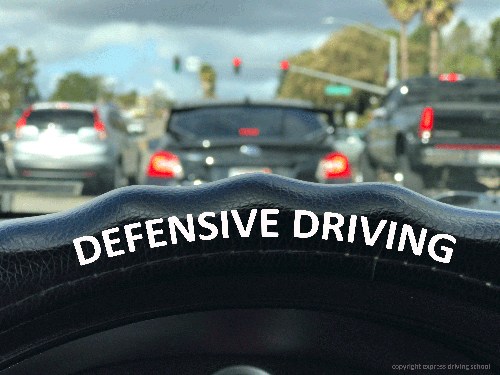 What is Defensive Driving?
Defensive driving is a practice that extends beyond the basic rules of the road and the mechanics of driving. Defensive diving aims to reduce the risk of accidents by assessing and anticipating dangerous situations, even in the presence of adverse conditions. Some experts in the area of defensive driving describe it as "driving as if everyone else on the road were drunk."
Basic Principles of Defensive Driving
Although specific defensive driving tactics vary based on location and course type, there are several strategies that all drivers can adopt to improve road safety.
General Practices
Control your speed.
Follow the two-second rule: stay at least two seconds behind any vehicle that is directly in front of your vehicle.
Know your vehicle's stopping distance.
Eliminate distractions while driving (using a cell phone, adjusting the radio, etc).
Psychological Factors
Understand what is needed to overcome undue stress, fatigue and road rage while driving.
Maintain a positive attitude behind the wheel.
Sharing the Road
Watch and respect other drivers.
Don't assume that other drivers will react exactly how you do.
Anticipate movements of other motorists and pedestrians.
Defensive Driving Courses
Government agencies, non-profit organizations and private schools provide a range of defensive driving courses in the United States for drivers of all ages and experience levels. In some states, completion of a defensive driving course will result in insurance fee reductions or the ability to remove a traffic ticket from driving records. Learn more about defensive driving or enroll in a course offered by the National Safety Council here.
If you or a loved one has been injured in a car accident, contact an experienced injury lawyer at Custy Law Firm | Accident & Injury Lawyers for the dedicated legal counsel you deserve.