Temperatures are starting to dip into the 40s at night and fall is in full swing.  It won't be long before the snow starts to fly throughout the Midwest. Before it does, below are some reminders and tips to make sure you are prepared to safely navigate the winter weather and avoid being involved in a car accident.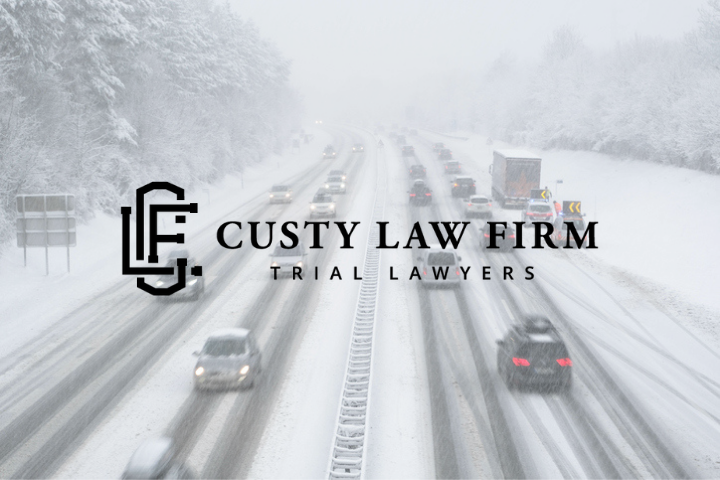 Pre-Trip
Get your car serviced.

 

Visit your mechanic for a tune-up and ask them to check for leaks, badly worn hoses, or other needed parts, repairs, and replacements.
Stock your vehicle.

 

Carry items in your vehicle to handle common winter driving-related tasks or supplies you might need in an emergency, including the following:

Snow shovel, broom, and ice scraper.
Abrasive material such as sand or kitty litter, in case your vehicle gets stuck in the snow.
Jumper cables, flashlight, and warning devices such as flares and emergency markers.
Blankets for protection from the cold.

Vehicle Safety Checklist Items. Check your vehicle's systems, lights and general operation including:

Windshield Washer Reservoir.

 

Ensure your vehicle's reservoir is full of high-quality "winter" fluid with de-icer before winter weather hits.
Windshield Wipers and Defrosters.

 

Make sure defrosters and windshield wipers work, and replace any worn blades.
Tires.

As the outside temperature drops, so does tire inflation pressure. Make sure each tire is filled to the vehicle manufacturer's recommended inflation pressure.
Look closely at your tread and replace tires that have uneven wear or insufficient tread. Tread should be at least 2/32 of an inch.
Check the age of each tire. Some vehicle manufacturers recommend that tires be replaced every six years regardless of use.
On the Road
Stay Alert.

 

Keep your gas tank close to full whenever possible, and, on longer trips, plan enough time to stop to stretch, get something to eat, return calls or text messages, and change drivers or rest if you feel drowsy.
Avoid Risky Driving Behaviors. Do not text or drive distracted; obey posted speed limits; and always drive sober. Both alcohol and drugs whether legal or illicit can cause impairment. It is illegal to drive impaired by any substance in all States – no exceptions.
Driving in Winter Conditions.

 

Slow down. It's harder to control or stop your vehicle on a slick or snow-covered surface.
Navigating Around Snow Plows. Don't crowd a snow plow or travel beside it. Snow plows travel slowly, make wide turns, stop often, overlap lanes, and exit the road frequently. However, the road behind an active snow plow is safer to drive on. If you find yourself behind a snow plow, stay behind it or use caution when passing.
With some forethought and by following safe driving practices, you can hit the roads with confidence this winter.  If you or a loved one happen to become involved in a car accident or truck accident and are injured, we'd be happy to help.