June 26, 2020
Pedestrian Safety Tips for the Summer
The highly anticipated Midwest summer is finally here, which means a few things: the temperature is hotter, the days are longer and everyone is spending more time outside. Whether you're walking downtown for an ice cream cone or driving to the park, make sure you keep the importance of pedestrian safety in mind.
According to the National Highway Traffic Safety Administration (NHTSA), 6,283 pedestrians were killed in traffic crashes in 2018. A number of factors play into the frequency and severity of pedestrian accidents.
Visibility is a significant issue that contributes to pedestrian accidents. In low-light conditions, drivers struggle to see pedestrians near the road. Almost a third of all pedestrian fatalities occur between 8:00 p.m. and 11:59 p.m.
Another major risk factor is alcohol. This year, the Centers for Disease Control and Prevention (CDC) reported that almost half of crashes resulting in a pedestrian death involved alcohol for the driver and/or the pedestrian. In 33% of all fatal pedestrian crashes, the pedestrian had a blood alcohol concentration of at least 0.08 g/dL, which is the United States standard to be considered legally impaired. In 17% of all fatal pedestrian crashes, the driver had a blood alcohol concentration of at least 0.08 g/dL.
To minimize the number of pedestrian crashes and fatalities, the NHTSA recommends the following safety tips for both drivers and pedestrians.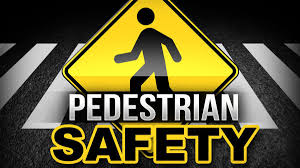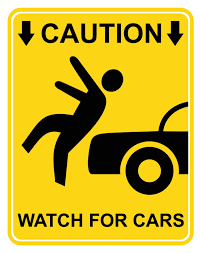 Walking Safety Tips
Walk predictably. Obey the rules of the road and follow all signs and signals.
Walk on sidewalks when they are available.
If you are walking on a road with no sidewalk, walk facing traffic (generally on the left side of the road) and stay as far from traffic as you can.
Stay alert. Avoid using your phone or headphones—electronic devices distract your attention.
Cross streets at crosswalks or intersections whenever you can. Even when you have the right of way, look for cars in all directions.
If you are unable to cross at a crosswalk, find a well-lit area with a good view of traffic and cross the road when there is a safe gap in traffic.
Do not assume that a driver sees you just because you can see them. Make eye contact with drivers as they approach.
To stay visible, wear bright clothing during the day and wear reflective clothing or use a flashlight at night.
Watch for cars pulling in or out of driveways and backing up in parking lots.
Avoid alcohol or drug use, as these substances inhibit your ability to remain aware and cautious.
Driving Safety Tips
Look out for pedestrians everywhere. Exercise additional caution if you are driving in hard-to-see conditions.
Slow down and be prepared to stop when you are turning or approaching a crosswalk.
Give space to pedestrians in crosswalks so other vehicles can see the crossing pedestrians and stop as well.
Do not pass vehicles at crosswalks, as there may be crossing pedestrians that you cannot see.
Follow the speed limit.
Adhere to slower speed limits in school zones and in neighborhoods where children are outside.
Be cautious when backing up, as pedestrians may move into your path.

Never use alcohol or drugs when driving.
Safety is a shared responsibility. Pedestrians and drivers can work together to make streets safer and to minimize the number of pedestrian accidents and deaths.
If you or a loved one has been involved in a pedestrian accident, contact the experienced injury attorneys of Custy Law Firm | Accident & Injury Lawyers for help. Call us for a free consultation at (219) 286-7361. We will work with you to ensure you are treated fairly.