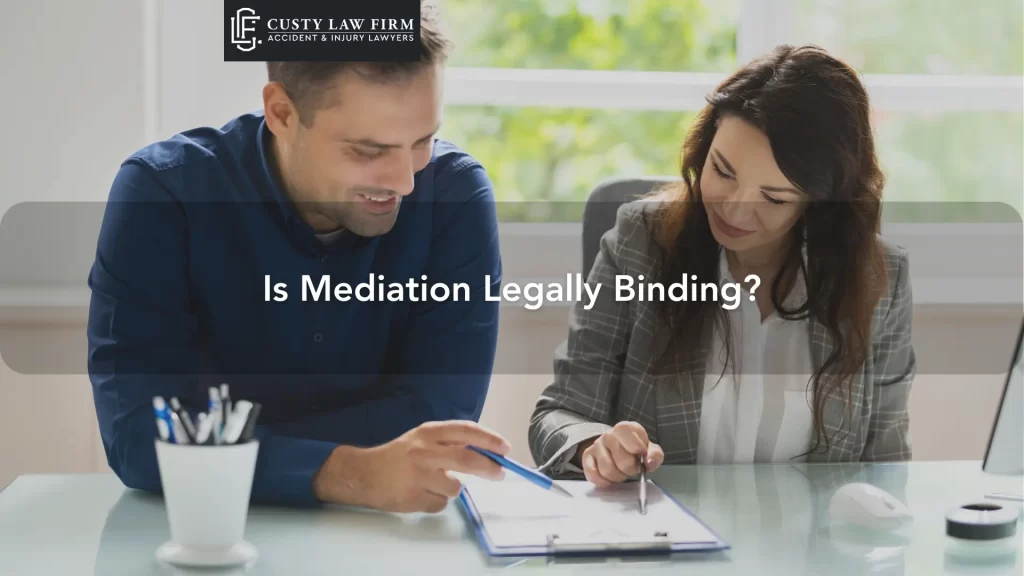 A critical issue in an Indiana personal injury case is deciding whether to settle the matter in mediation. Mediation is a guided negotiation process led by a trained mediator to help the two parties involved come to a compromise. Settling your case in mediation can be a great alternative to going to trial. It can save you money and avoid uncertainty about a jury's actions.
However, like many injured people, you probably wonder, "Is mediation legally binding?" According to Indiana law, parties to mediation must mediate in good faith but are not required to reach an agreement. Mediation itself is not legally binding.
Understanding the Mediation Process
A personal injury mediator is trained to help settle legal matters between the two parties. The role of the mediator isn't to determine which party is right or wrong. Rather, a mediator helps each side see the other's perspective and seek compromise. As a neutral third party, the mediator can ask questions about each side's case and offer suggestions for compromise. Mediators in Indiana are required to be lawyers but can also be judges.
Mediation is confidential, so the parties involved must sign confidentiality agreements. Confidentiality in mediation is binding in Indiana. Often included in these agreements is a clause stating that whatever is said in mediation cannot be used in a trial should the parties not settle the case.
Mediation is non-binding. But, if the parties arrive at a compromise during mediation, the mediator or one of the lawyers can create a settlement agreement. Once both parties sign the agreement, it is a legally binding contract. If a lawsuit has been filed in the case, the contract will be presented to a judge for their approval as a resolution of the case. However, mediation's chief benefit is allowing the opposing parties to confidentially discuss the matter without being bound by the formal rules of a court.
If a judge orders mediation, participating in it is required under Indiana law. Not participating in mediation would be a violation of a court order.
Does Mediation Mean Settlement?
A mediation discussion is just that – a discussion. The guidance of a mediator can help the injured victim and the at-fault party remain focused on the goal of reaching a settlement. Sometimes, the parties can become contention about particular issues, especially if the question of who is to blame isn't resolved. A mediator can help calm tempers and maintain amicable interactions.
Mediation doesn't necessarily result in a settlement. It may take more than one session to reach a compromise on all matters, especially in complex cases. The initial discussion may help both parties reach a compromise. Until there is a written settlement agreement, mediation does not mean settlement. The other party might be unwilling to agree to terms you can live with. In that case, your lawyer may advise going to trial. However, Nothing you discussed or agreed to in mediation may be used at trial because of the confidentiality agreement.
A settlement agreement, on the other hand, is binding. After both parties agree to the specific terms of the settlement, their lawyers can review the proposed agreement, ensuring that the terms of the drafted settlement agreement are the same ones agreed upon in mediation.
Once the settlement agreement is signed and submitted to an Indiana civil court judge, the judge will ensure the contract is legally sound. When the judge signs off on it, it's just a question of waiting for the at-fault party or their insurance company to cut you a check before your case is concluded.
What If Mediation Doesn't Lead to a Settlement?
If the parties attend mediation and participate in good faith, it is still possible that no agreement can be reached. In that case, one of two scenarios could result.
If the parties believe they are close to reaching an agreement, they can schedule an additional mediation session.  Then, they can continue to refine their compromises until they come to terms.
If it becomes apparent that no settlement can be reached, the parties can agree to terminate the mediation session and proceed with scheduling the case for trial.
When the case goes to trial, your lawyer will present your case before a judge or jury. The court will listen to the evidence presented by both sides and determine whether the at-fault party was negligent. If the court finds that the at-fault party caused your injuries, the judge or jury also determines how much your award will be.
If your Indiana personal injury lawyer thinks the at-fault party's behavior was egregious enough to warrant punitive damages, they may advise trialing the case. If you have a jury trial, the jury may also determine whether punitive damages will be assessed against the at-fault party.
Once the jury reaches a verdict, it must be approved by a judge. When that's finished, if you win, the court will order the liable party to pay you the compensation the judge or jury determined you're due. The at-fault party or their insurance company will cut your lawyer a check.
The Value of Mediation in Personal Injury Cases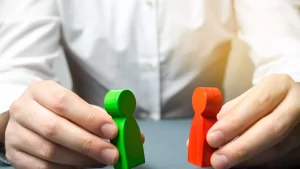 Mediation has several benefits. Among them is saving you the expense and stress of a trial. If you go to court, in addition to any court fees and costs, you'll have to pay for your attorney's time and the time of any expert witnesses that your lawyer engages to testify on your behalf. In addition, being in court and listening as the other side presents their evidence is stressful.
Mediation is also confidential. Anything said in mediation sessions is confidential, and often, so are the terms of your agreement. If your case goes to trial, the court proceedings and evidence presented all become court records. Many people value their privacy and would rather accept a settlement and put the matter behind them than air their disputes in public court.
However, some injured people may want a trial or be unable to agree to terms offered by the party that harmed them. Whichever position you're in – seeking mediation or going to trial – you can trust the experience and knowledge of the Custy Law Firm | Accident & Injury Lawyers legal team. Contact us today at (219) 286-7361 for a free consultation with a seasoned Indiana personal injury lawyer.
Related Posts
Preparing for Personal Injury Mediation