If you have been involved in a motorcycle accident, you may be wondering how helmet laws could affect your insurance claim or lawsuit. Even though helmets are not required by law for most motorcyclists in Indiana, not wearing one can negatively impact the amount of compensation you receive.
An experienced Indiana motorcycle accident attorney can advocate for your rights to pursue fair and adequate compensation for your injuries. At Custy Law Firm, our dedicated attorneys fight tirelessly to pursue justice for motorcycle accident victims every day. We provide real and honest representation and make it our priority to build trust through compassion and understanding. We fight aggressively for our clients and are not afraid to go to trial to get the best result. Our outstanding testimonials and case results provide evidence of our dedication to hard work and justice.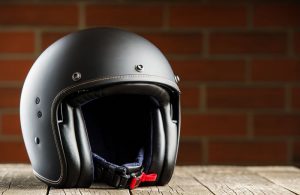 Motorcycle Accident Statistics
In 2019, 5,014 motorcyclists were killed in traffic collisions across the United States. 112 of them were in Indiana. Although motorcycle accidents accounted for less than two percent of all motor vehicle accidents in Indiana in 2019, they represented 14 percent of all traffic fatalities in the state. These disproportionate figures indicate that motorcycle riders and passengers are at much greater risk of suffering catastrophic injuries if they are involved in an accident than the occupants of other types of vehicles.
Data also proves that helmets protect lives in motorcycle accidents. Seventy-three percent of motorcyclists killed in a crash in Indiana were not wearing a helmet. Despite this, helmet use is not very high. In 2019, only 35 percent of motorcyclists involved in accidents in Indiana were wearing a helmet.
How Helmet Laws Can Impact Fault in Indiana
In Indiana, helmet use is not mandated for most riders and passengers. Only those younger than 18 years of age that have a motorcycle learner's permit are required to wear a helmet while riding. Despite this, if you were not wearing a helmet when you were in an accident, this can impact your insurance claim or lawsuit.
Indiana follows a "comparative fault" rule in personal injury cases, meaning that if you are found to have been negligent in some way and contributed to an accident, your compensation will be reduced by the percentage of fault assigned to you. So, in the case of a motorcycle accident where you were not wearing a helmet, it's likely that the insurance company will reduce their settlement offer to you, claiming that you contributed to the severity of your injuries.
Similarly, in a civil lawsuit, a jury could decide that your failure to wear a helmet was negligent. Based on the specifics of the case, they would assign a percentage of fault to you for this negligence and your total monetary compensation would be reduced by that percentage.
An experienced Valparaiso personal injury attorney can fight for your rights to minimize the blame assigned to you in order to seek maximum compensation for your injuries.
Why You Need a Personal Injury Attorney
The statistics prove that motorcyclists are at much higher risk of being severely injured, or even killed, in a traffic accident. If you were not wearing a helmet at the time of an accident, you could be considered partially responsible for the crash and may be denied the full amount of compensation that you would otherwise be entitled to.
Unfortunately, insurance companies are in the business of saving money. They are not likely to fully account for all of your losses and will try to minimize the extent and impact of your injuries on your future. Alternatively, if you are involved in a lawsuit, it's likely that the other party's attorney will use arguments and defenses to try to prove your negligence and maximize the percentage of fault assigned to you in the case. A skilled Indiana motorcycle accident attorney can advocate for you and your rights to pursue maximum compensation for you.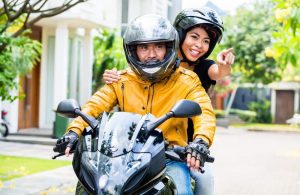 How Custy Law Firm | Accident & Injury Lawyers Can Help
The dedicated motorcycle accident attorneys of Custy Law Firm | Accident & Injury Lawyers are here to provide support and legal guidance to you during this stressful time. We will take the time to understand your specific case so that we can provide the best representation possible. We will leave no stone unturned in uncovering and calculating the value of your injuries and losses, and we will fight aggressively for the compensation you need and deserve.
We do not get paid until you do, so don't wait any longer. Call us at (219) 286-7361 or contact us online today for your free consultation.