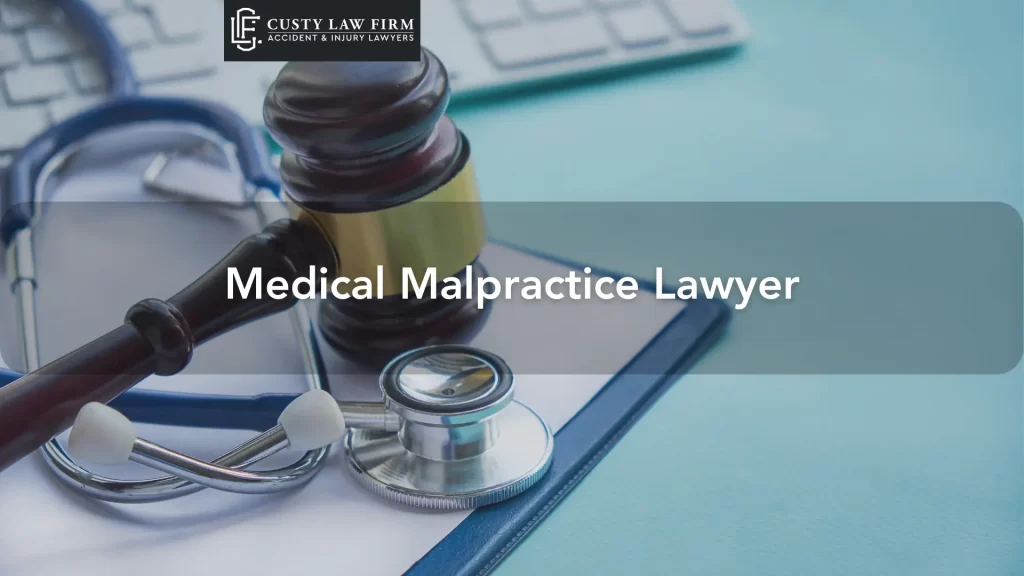 Medical malpractice is a serious breach of trust between a patient and healthcare provider, often resulting in harm and life-altering repercussions. Suppose you or a loved one has experienced this devastating event. In that case, you're not alone – a medical malpractice attorney can listen to your story and help you pursue the justice and compensation you deserve. 
At Custy Law Firm | Accident & Injury Lawyers, our seasoned attorneys have the experience, dedication, and compassion to guide victims of medical malpractice through the legal process and obtain the best outcomes. We have helped injury victims throughout Indiana rebuild their lives after medical malpractice, and we can do the same for you. Our medical malpractice lawyers can help you seek compensation for your medical bills, lost wages, and other losses related to your injury. Don't wait – contact us today at (219) 286-7361 or online. 
What is Medical Malpractice?
Medical malpractice is an alarming violation of trust and standard care. It happens when a healthcare professional deviates from accepted medical practices, harming the patient. Examples of medical malpractice include failure to diagnose, incorrect treatment, surgical errors, birth injuries, or improper medication prescriptions. No patient should bear the burden of a medical professional's negligence.
At our law firm, we understand that taking legal action can seem daunting, particularly when you're already coping with emotional distress and physical recovery. But seeking justice is your right, and we're committed to helping you exercise it.
How Do I Prove Medical Malpractice?
Proving medical malpractice often requires evidence of an existing doctor-patient relationship, negligence on the part of the healthcare provider, and a direct causal link between negligence and your injury. A plaintiff must also show that they suffered damages due to the injury, including physical pain, mental anguish, additional medical costs, or loss of work and earning potential. Our experienced team is adept at assembling this evidence and presenting a persuasive case in court. Some of the evidence that we might use to prove medical malpractice includes the following: 
Medical records include a patient's entire medical history, treatments administered, prescriptions given, and notes made by healthcare professionals.

Testimonies from medical experts – Expert witnesses can clarify the standard of care that should have been followed and how the defendant's actions deviated from that standard.

Testimony from the plaintiff – The victim's account of the impact of the malpractice on their health and life can be compelling evidence.

Proof of a doctor-patient relationship – Documentation or other evidence that a professional relationship existed between the patient and the healthcare provider is crucial.

Prescription records can help demonstrate whether the provider prescribed an inappropriate medication or dosage.

Photographic evidence – Photos of the injury or condition can help illustrate the extent and impact of the harm caused.

Financial records – Records of financial losses associated with the malpractice, such as medical bills, therapy costs, or lost wages due to an inability to work, are essential evidence.

Second opinions or subsequent doctor reports – If a patient sought help from another medical professional after the incident, those records could support the malpractice claim.
What Compensation is Available in a Medical Malpractice Claim?
If you are successful in your medical malpractice claim, you could receive compensation for the losses you incur due to the injury. These losses might include the following: 
Medical expenses – Reimbursement for medical bills incurred due to the malpractice, including past medical expenses and estimated future costs associated with ongoing care or rehabilitation

Loss of earnings – Compensation for lost wages if the injury caused you to miss work, including future earnings if you cannot return to your job

Pain and suffering – Compensation for physical pain and emotional distress caused by the injury

Loss of consortium – Compensation for loss of companionship or other damages incurred by the victim's spouse
How Can a Medical Malpractice Lawyer Help Me?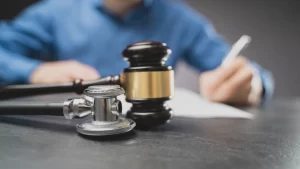 Our team of dedicated attorneys has extensive experience and success in handling medical malpractice cases. We recognize that each case is unique and warrants a tailored legal strategy – and that's exactly what we provide. The medical malpractice lawyers at Custy Law Firm | Accident & Injury Lawyers can help your case by: 
Evaluating your claim – Medical malpractice lawyers can assess the details of your case, help determine if you have a valid claim, and advise on the best course of action.

Understanding medical and legal jargon – Lawyers experienced in this field can help decipher complex medical terminologies and legal jargon, making the process more accessible.

Gathering and analyzing evidence – They can systematically examine crucial evidence, such as medical records, to build a strong case on your behalf.

Consulting medical experts – They have access to a network of medical experts who can provide vital opinions and testimonies to support your claim.

Handling paperwork and legal procedures – From filing the lawsuit to managing all the legal documents, your lawyer can handle the intricate legal processes, reducing stress.

Negotiating settlements – If a settlement is an option, your lawyer can negotiate with the defendant's insurance company to ensure you receive fair compensation.

Representing you in court – If the case goes to trial, your lawyer will represent you, ensuring your case is presented effectively to the jury.

Maximizing your compensation – Your lawyer's ultimate goal is to get you the maximum compensation possible, considering all the malpractice's past, current, and future impacts.
How Long Do I Have to File a Medical Malpractice Claim?
Remember, when you're a victim of medical malpractice, time is of the essence. Many jurisdictions have a statute of limitations on malpractice suits. This means there's a defined window in which you can file a lawsuit after the incident. Therefore, contacting an attorney as soon as possible will ensure your case receives the attention it merits before this window closes.
Contact Our Medical Malpractice Lawyers Today
Your journey to justice starts with a simple step: reach out to us. At Custy Law Firm | Accident & Injury Lawyers, we will work tirelessly to investigate your case and build a compelling argument on your behalf. Our attorneys can help you seek the compensation and justice you deserve for the harm you suffered. Our firm offers free no-obligation consultations, where we can consider your circumstances, assess the viability of your claim, and guide you on the best course of action. Contact our medical malpractice lawyers today at (219) 286-7361 or online to get started.